Top 5 Restaurants in Bahria Town Karachi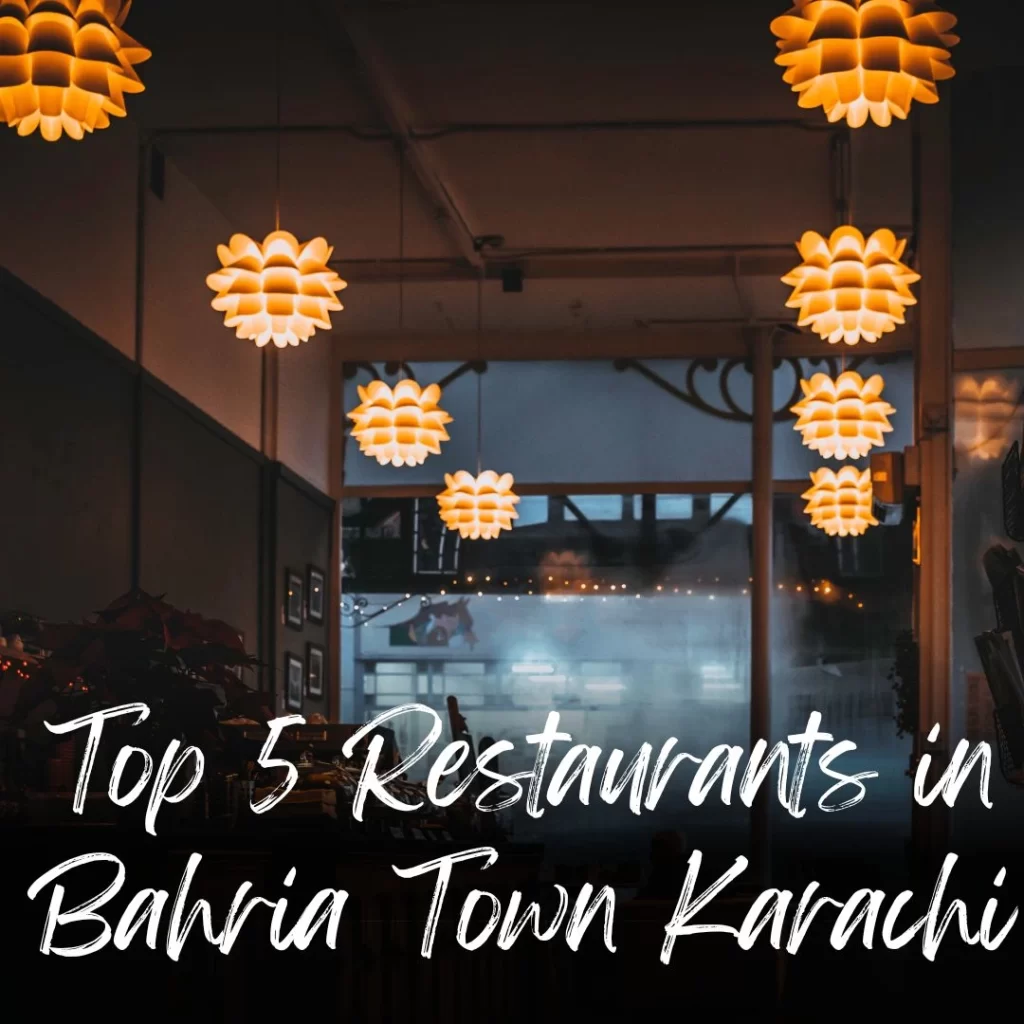 Bahria Town Karachi has some really amazing restaurants. They offer a wide range of different types of food for you to choose from. Whether you want to try traditional Pakistani dishes, international flavors, or something in between, you can find a restaurant that suits your taste. A lot of the restaurants in Bahria Town Karachi have seating areas outside, so you can enjoy your meal while looking at the beautiful views around you.
The restaurants in Bahria Town Karachi are famous for their tasty food, great service, and friendly atmosphere. That's why both locals and visitors love to eat there. There are so many good options to choose from that it can be hard to decide where to go. But no matter which restaurant you pick, you can be sure that you'll have an amazing dining experience in Bahria Town, Karachi.
Top-5-restaurants-at-do-darya-karachi
Best Restaurants in Bahria Town Karachi
Following is a list of some of the best Bahria Town Karachi restaurants.
1. Ginsoy Extreme Chinese
Ginsoy Bahria Town Karachi is a well-known Chinese restaurant in Karachi, Pakistan. They serve delicious Chinese food like kung pao chicken, sesame chicken, and spicy shrimp. You can also find soups, salads, and desserts on their menu.
The restaurant has a modern and stylish look, and it's a popular place for families, couples, and friends to visit. People love going to Ginsoy because they serve large portions of food at affordable prices. If you're looking for tasty Chinese cuisine in a casual and relaxed atmosphere, Ginsoy Extreme Chinese in Bahria Town Karachi is a great choice.
Completa Ginsoy Menu and updated Prices
2. Carnival Karachi
he Carnival is a place where families can have a lot of fun and enjoy different activities and events. There are exciting rides, events, and open parks for everyone to enjoy. And when it comes to food, the Carnival Area has some well-known international food companies. You can find popular restaurants like Pizza Hut, Burger King, The Cave, Istanbul, Koyla Karhai, Filly, Freshens, Baloch Ice Cream, A-One Foods, The Creamery, and New Horizon Fine Dining.
The restaurants in the Carnival area of Bahria Town Karachi are famous for several reasons. They are in a great location, and the atmosphere is cozy and welcoming. But most importantly, they serve delicious food that people love.
Kolachi Restaurant Karachi Menu with Prices
3. Cave Restaurant Karachi
The Cave Restaurant in Bahria Town, Karachi, is a one-of-a-kind dining place that stands out from other restaurants in the city. What makes it special is that it's built inside a manmade cave, giving it a unique and interesting design. The restaurant's interior has a rugged and brown color theme, adding to its distinctive atmosphere.
When it comes to food, the Cave Restaurant offers a diverse menu with a wide range of cuisines to choose from. You can enjoy Pakistani dishes, seafood, Chinese cuisine, fast food, and delicious sweets. The Cave Restaurant has multiple branches across Karachi, including ones in Bahria Town Karachi, Carnival Karachi, and Karachi.
Top 10 Cafes in Karachi With Good Ambiances & Foods
4. Istanbul Grill Karachi
Mr. Ali Riaz, the respected CEO of Bahria Town, and Mr. Shahid Qureshi, the National Head of Marketing, celebrated the opening of Istanbul Grill on March 23. This restaurant is a perfect place to satisfy your cravings for Afghan, Turkish, and Pakistani cuisine all in one spot. Come and join us with your loved ones for a delightful and finger-licking feast, served in a setting adorned with luxurious cultural and traditional carpets.
Chill & Grill Cafe Karachi Menu with Prices
Jamil Restaurant in Karachi is known for its rich and diverse food culture, offering a variety of mouthwatering dishes. Some of their popular specialties include:
Biryani: A flavorful rice dish with meat, spices, and vegetables, often served with raita.
Karahi: A spicy meat and vegetable dish cooked in a circular pan called a karahi.
Nihari: A slow-cooked beef stew, commonly enjoyed for breakfast, garnished with ginger, chili peppers, and cilantro.
Kebabs: Grilled meat skewers, typically made with chicken, lamb, or beef, served with chutney or raita.
Chaat: Savory snack foods with ingredients like chickpeas, potatoes, and various sauces, originating from India but loved in Pakistan too.
Top 5 Restaurants in North Nazimabad
FAQs
What restaurants are in Bahria Town Karachi Carnival?
Which area is best in Bahria Town Karachi?
It depends on your preferences and what you're looking for. Bahria Town Karachi has several different areas, each with its own unique features and attractions. For example, the Bahria Town Sports City is great for sports enthusiasts, while the Bahria Paradise has beautiful landscapes and lakes. The Bahria Hills and Bahria Heights are great for those who want a scenic view of the city.
Which Bahria Town is biggest?
The Bahria Town, located in Karachi, Pakistan, is currently the largest Bahria Town development in the country, spanning over 46,000 acres. However, Bahria Town Lahore is also a large and rapidly growing development, covering over 44,000 acres.
What time is Bahria Town Karachi today?
Bahria Town Karachi will be 9 am to 5 pm, 7 days a week.