Kaybees Menu Pakistan with Prices updated in
If you need something Desi, spicy, Chinese at the same place then Kaybees menu is the place you are looking for. Kaybees restaurant is the name on everyone's mind in Pakistan because it has everything which a fast food lover may desire. They serve their tasteful Soups, Fries, Sandwiches, Burgers, Chinese food, Noodles, Seafood, BBQ, Roasted Chicken, Desi food, Grilled Steaks, Succulent Handi, Aromatic Rice, Desserts and yummy beverages at easy prices. Kaybees menu is based in Karachi where it entertains thousands of food lovers on a daily basis. They only exist to serve the best quality food made with the choicest ingredients in the town.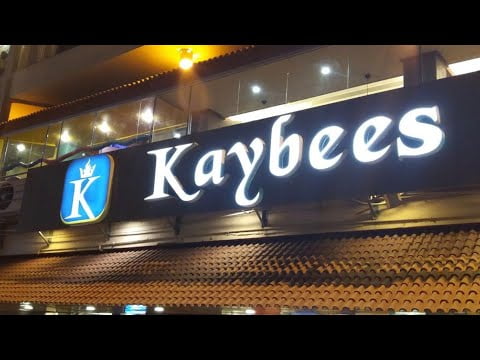 Kaybees Menu Best Items
Kaybees restaurant has a lot of heavenly food items to offer. It is very hard to pick only a few for you, however, here are some best items from the Kaybees Menu Karachi
Kaybees Burgers
Nowadays, everyone wants fast food for their dining and especially the Burgers are fulfilling thisre Nowadays, everyone wants fast food for their dining and especially the Burgers are fulfilling this requirement very well. At the Kaybees menu, you will find some of the best and gigantic burgers available in the country. You can order their Chicken Burger with cheese or without cheese as you desire. Everyone loves Zinger Burger in Karachi, and at this restaurant you will get the most of it at a fair price rate. It includes crunchy chicken thigh in it along with other tasty constituents. You can have it with or without cheese.
Sandwiches by Kaybees Menu
Kaybees menu is more than happy to offer its amazing sandwiches to the food adventures.
There are a total of two sandwiches: Club Sandwich and Grill Sandwich. Club Sandwich is a
single sandwich and is available at the price of 220 PKR only. On the other hand, Grill Sandwich is ready to make your taste buds go crazy with its titillating taste. These sandwiches are becoming a great sensation as they are part of many deals at the Kaybees restaurant.
Kaybees Chinese Menu
Pakistani people are accepting diverse cultures as well as their food and Chinese food is quite famous in every corner of the country. The Kaybees menu has a Chinese food menu which has many delectable food items served with traditional Chinese rice. Right now, they are offering 15% off on many food items so it is probably the most appropriate time to visit this restaurant and try their Garlic Chicken with rice, Beef Chili Dry with rice and Schezwan Fish with rice. You can also order various varieties of Chinese noodles as your meal of the hour.
Broasted Chicken
Kaybees restaurant serves really luscious broasted chicken to its visitors. They use the best
poultry chicken to make their products. They are made to perfection by highly qualified chefs. Broasted Chicken items offer you a crispy and spicy taste which you will surely remember for the rest of your life.
Starters
| | |
| --- | --- |
| Item | Price |
| Spicy Mexican Wings | Rs. 695 |
| Cheesy Fries | Rs. 395 |
| Dhaka Chicken | Rs. 790 |
| Dhaka Fish | Rs. 890 |
| Finger fish | Rs. 890 |
| Fish & chips | Rs. 890 |
| French fries | Rs. 295 |
| Honey Mustard Wings | Rs. 695 |
| Hummus | Rs. 499 |
| Kaybees Special Prawn Tempura | Rs. 999 |
| Lahori Fish | Rs. 890 |
| Masala Fries | Rs. 299 |
| Mayo Garlic Fries | Rs. 335 |
| Supreme Nachos | Rs. 890 |
| Dynamite Prawn | Rs. 999 |
| Mozzarella Cheese Stick | Rs. 99 |
| Stuffed Chicken Strips | Rs. 699 |
Burgers
Steaks By Kaybees (Beef)
| | |
| --- | --- |
| Moroccan Steak | Rs. 1399 |
| Mushroom Steak | Rs. 1399 |
| Tarragon Steak | Rs. 1399 |
| Pepper Steak | Rs. 1399 |
| French Onion Steak | Rs. 1399 |
| American Steak | Rs. 1399 |
| Fajita Steak | Rs. 1399 |
| Kaybees Fire Steak | Rs. 1399 |
Steaks By Kaybees (Chicken)
| | |
| --- | --- |
| Chicken Moroccan Steak | Rs. 1190 |
| Grilled chicken Mushroom Steak | Rs. 1190 |
| Chicken Tarragon Steak | Rs. 1190 |
| Chicken Pepper Steak | Rs. 1190 |
| Chicken French Onion Steak | Rs. 1190 |
| American Chicken | Rs. 1190 |
| Fajita Steak | Rs. 1190 |
| Kaybees Fire Chicken | Rs. 1190 |
Kaybees Chinese Menu
| | |
| --- | --- |
| Chicken Chili Dry with Fried Rice | Rs. 1099 |
| Chicken Manchurian With Fried Rice | Rs. 1099 |
| Chicken Shashlik With fried rice | Rs. 1099 |
| Beef Chili (Dry) with Fried Rice | Rs. 1199 |
| Spicy Garlic chicken With Fried Rice | Rs. 1099 |
| Chicken Chili vegetable with Fried Rice | Rs. 1099 |
| Cherry Chili Chicken with Fried Rice | Rs. 1099 |
| Beef Chili (Gravy) with Fried Rice | Rs. 1199 |
| Schezwan Chicken with Fried Rice | Rs. 1099 |
| Kung Pao Chicken with Fried Rice | Rs. 1099 |
| Sweet & Sour Chicken, Pineapple Chunks with Fried Rice | Rs. 1099 |
| Chicken Chowmein | Rs. 699 |
| Vegetable Chowmein | Rs. 649 |
Barbecue Kabab
| | |
| --- | --- |
| Chicken Spicy Kabab | Rs. 875 |
| Chicken Reshmi Kabab | Rs. 899 |
| Chullu Kabab (Beef) | Rs. 899 |
| Gola Kabab | Rs. 799 |
| Seekh Kabab (Beef) | Rs. 799 |
| Rango kabab (Mutton) | Rs. 899 |
| Chicken Malai Kabab | Rs. 799 |
| Ertugrul Kabab | Rs. 799 |
| Chicken Cheese Kabab | Rs. 899 |
| Mutton Cheese Kabab | Rs. 999 |
Fried items
| | |
| --- | --- |
| Red Snapper Fried | Rs. 2950 |
Hot Tandoors
| | |
| --- | --- |
| Plain Naan | Rs. 45 |
| Garlic Naan | Rs. 89 |
| Roghni Naan | Rs. 89  |
| Whole wheat naan | Rs. 59 |
| Cheese Naan | Rs. 445 |
| Chapatti | Rs. 39 |
| Puri Paratha | Rs. 95 |
| Kandhari Naan | Rs. 110 |
Mocktails
| | |
| --- | --- |
| Kisses | Rs. 299 |
| Cooling Punch | Rs. 299 |
| Grape wine | Rs. 299 |
| white colada | Rs. 375 |
| Blue Colada | Rs. 375 |
| Margarita | Rs. 299 |
| Zombie | Rs. 299 |
| Angel Mist | Rs. 299 |
| Tropical Blue Margarita | Rs. 299 |
| Lemon Mint Glacier | Rs. 299 |
| Victoria's Secret Margarita | Rs. 325 |
| Cold Coffee With Chocolate ice cream | Rs. 325 |
Dessert
| | |
| --- | --- |
| Kaybees Chocolate Cake Slice | Rs. 299 |
| Nuttella Brownie | Rs. 350 |
| Ferrero Roacher Cake Slice | Rs. 325 |
Milk Shakes
| | |
| --- | --- |
| Strawberry | Rs. 345 |
| Banana | Rs. 345 |
| Mango | Rs. 345 |
| Oreo | Rs. 345 |
| Chocolate/Vanilla | Rs. 345 |
| Chocolate/Strawberry | Rs. 345 |
| Coco Banana | Rs. 345 |
| Chocolate | Rs. 345 |
| Vanilla Shake | Rs. 345 |
| Blueberry | Rs. 345 |
| Kit Kat | Rs. 399 |
Cold Bevarages
| | |
| --- | --- |
| Soft drink | Rs. 99 |
| Soft Drink diet | Rs. 99 |
| Fresh Lime | Rs. 195 |
| Mineral Water Small | Rs. 59 |
| Mineral Water large | Rs. 109 |
Contact Kaybees
021-111-529-233
https://www.facebook.com/kaybeespakistan/