Waqas Biryani Menu Pakistan with Prices 2023
If you want to taste the best rice dishes in Pakistan then Waqas Biryani menu is the right place for you. They have been upgrading their Biryani ever since their emergence on the scene and now they serve you the best Biryani in Lahore. Customer satisfaction is their top most priority, that's why they have kept the rice quantity and quality high. On the other hand, the price for a plate of Biryani is kept very affordable.
Waqas Biryani is owned by Mr. Waqas and his brother Mr. Waqar. They started this business
with a vision to produce delicious Biryani for the food lovers. They treat their visitors with humbleness and respect by providing a comfortable atmosphere.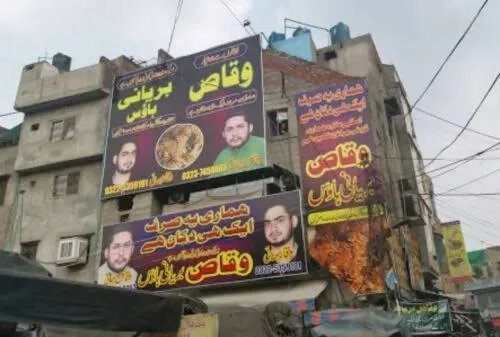 Waqas Biryani menu Lahore Specialty
Waqas Biryani menu has become very famous because it does not offer anything fancy and just sticks to its original goal which is to serve the national dish, Biryani, to the customers. Here is the whole Waqas Biryani menu description:
Full Biryani
At the food store, you will be treated with their totally mind blowing Biryani. The Full Biryani plate is more than enough for a single person. However, it can also satisfy a couple of friends if they have a normal appetite at the time of their dining at Waqas Biryani restaurant. Full Biryani consists of a complete chicken piece along with their signature raita, salad and shami. They only use the best rice possible for the making of this heavenly tasting Biryani. This will cost you 320 PKR only which is, honestly saying, is nothing compared to its quality
Simple Biryani
If you are interested in having your Biryani without chicken then the Simple Biryani option is there for you. This Biryani has all the features like the full one with only one exception, the chicken. You will still get savory raita, tasty shami and healthy salad with your order. One thing that night please you is its price rate as it is much less than the full Biryani. You can get a simple Biryani at the price of 180 PKR only.
Waqas Biryani Hall Road Delivery
Waqas Biryani owners do not have their own delivery service, however, they have collaborated with other delivery services so the customers can get their favorite Biryani at home. If you are in Lahore, then you can order the Biryani by simply visiting the website www.freshstore.pk. After opening it, choose Waqas Biryani from the restaurant options and place your order. Your food will be delivered to your location as soon as possible.
Waqas Biryani Menu Price List
| | |
| --- | --- |
| Menu | Price |
| Full Biryani(Raita+Salad+Shaami) | R.s 320 |
| Half Biryani(Raita+Salad+Shaami) | R.s 230 |
| Simple Biryani(Raita+Salad+Shaami) | R.s 180 |
| Extra Raita | R.s 30 |
| Extra Shaami | R.s 30 |
Waqas Biryani Delivery Number:
Here is the Waqas Biryani delivery number:
03225359191
So pick your phone and order this wonderful Biryani to surpass your taste buds. Best suited for your lunch meal because its timings are around that period.
Waqas Biryani Timings are:
From 11:45 AM to 5:45 PM.
In the month of Ramzan, these timings are changed from 11:00AM-9:00PM.
https://www.facebook.com/Newwaqasbiryani/