Dr Saucy Menu Pakistan with Prices 2023
Dr Saucy menu has the privilege to offer not only the biggest but also the most delicious
Burgers in Pakistan. They have got great fame after being introduced in the city of wrestlers, Gujranwala. Dr Saucy menu Gujranwala serves titillating Burgers and some different wraps to the food lovers. The size of their products is very big but the cost is very small.
Dr Saucy restaurant owners make sure that all the burgers are made with fresh ingredients and contain a sufficient amount of nutrients. This restaurant is a perfect place for your family dining. The atmosphere at Dr Saucy food store is great and the staff is very friendly.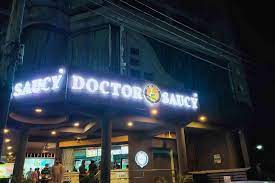 Dr Saucy Best Items
Dr Saucy is proud of its magnificent burgers and tortilla wraps. Here are the best items from the Dr Saucy menu:
Thunder Zinger Burger
Dr Saucy owners take great pride while offering their signature Thunder Zinger Burger to the visitors. This burger has all the qualities that one may want in an ideal burger. Its size is huge and the taste is unforgettable. Thunder Zinger Burger includes 180 grams of spicy chicken thigh which is coated with fine flour mixed with continental spices and iceberg. It is served with your desired sauce. This burger is enough for one person no matter how hungry you are. It is crunchy as well as spicy at the same time and both these qualities make it a must try.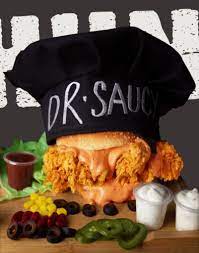 Chicken Grilled Burger
Dr Saucy restaurant is ready to make your mouth water with their most ordered Chicken Grilled Burger. This burger is so luscious that you will lick your fingers at the end. This one will make you visit them again and again. It contains 200 grams of marinated grilled filet with quality onions, tomatoes, butter, iceberg and the sauciest Bar BQ sauce. It is really a big sized burger that you will definitely love to finish. It is available at a reasonable price of 320 PKR only.
Chicken Fillet Burger
If you think you have had enough at the Dr Saucy menu, then just wait until you come across this heavenly Chicken Fillet Burger. This burger is made for pure food lovers as it contains fried chicken coated with eggs, milk and bread crumbs, iceberg, and the sauces you like the most. This burger will give you chills right down to your spine. Every ingredient is of the best quality possible. This applause worthy burger is presented at the price of 260 PKR only which will feel absolutely nothing in front of the divine taste.
Dr Saucy Wraps
The Dr Saucy restaurant, besides its signature burgers, also offers some palatable wraps to the visitors. There are two types of wraps to choose for your dining. First one is the Tortilla wrap and the other one is Chicken Grill wrap. Both the wraps have a unique taste and contain fried and grilled chicken respectively. They include butter and chips in them to make it more exciting.
Dr Saucy Menu Price List
Burgers
| | |
| --- | --- |
| Menu | Price |
| Chicken Fillet Burger | from Rs. 620 |
| Chicken Grilled Burger | from Rs. 630 |
| Thunder Zinger Burger | from Rs. 590 |
| Jumbo Chicken Patty Burger | from Rs. 490 |
| Kebab Dose | Rs. 420 |
Wraps
| | |
| --- | --- |
| Menu | Price |
| Chicken Grilled Wrap | from Rs. 670 |
| Tortilla Wrap | from Rs. 660 |
Loaded Fries
| | |
| --- | --- |
| Menu | Price |
| Regular Fries | Rs. 210 |
| Grilled Chicken Loaded Fries | Rs. 730 |
| Fried Chicken Loaded Fries | Rs. 730 |
Extra Dip Sauce
Beverages
| | |
| --- | --- |
| Menu | Price |
| Coca-Cola – 500 ml | Rs. 120 |
| Sprite – 500 ml | Rs. 120 |
Contact Dr Saucy Pakistan
https://www.facebook.com/DoctorsaucyPk/
https://www.instagram.com/doctorsaucypk/?hl=en
Address: 652 D Al Hameed Chowk, near D Ground, Faisalabad, 38000
Phone: 0311 1110143