Daily Deli Co Menu Pakistan with Prices on
Daily Deli Co menu is a fast food chain which is rapidly growing day by day all across Pakistan.Daily Deli Co restaurant is becoming a sensation among the fast food lovers for its magnificent and big sized original Burgers. Besides their classy burgers, they also serve enjoyable Sandwiches, Appetizers, Pasta, Fries, Shakes and other beverages at very fair prices. They have cracked a way to get the customers' attention which is to make their food products only with the choicest ingredients possible.Daily Deli Co is established in major cities of Pakistan where thousands of visitors enjoy their favorite meals every day. Along with the taste of food, the atmosphere is great too.
Daily Deli Co Menu Best Items
Daily Deli Co menu has a lot to offer but we will tell you only about the best items from their
menu
Smoky House Burger by Daily Deli Co
Daily Deli Co restaurant takes great pleasure when it serves you its best in the house burger
which is the DD Smoky House Burger. This is bigger than a normal burger which you may find at local restaurants or cafes. It is made with some titillating ingredients including patty with cheese, fried onion rings, bologna slices and spicy smokehouse sauce. This burger is enough for one person. You can make it your meal of the day by ordering a cold drink between your dining.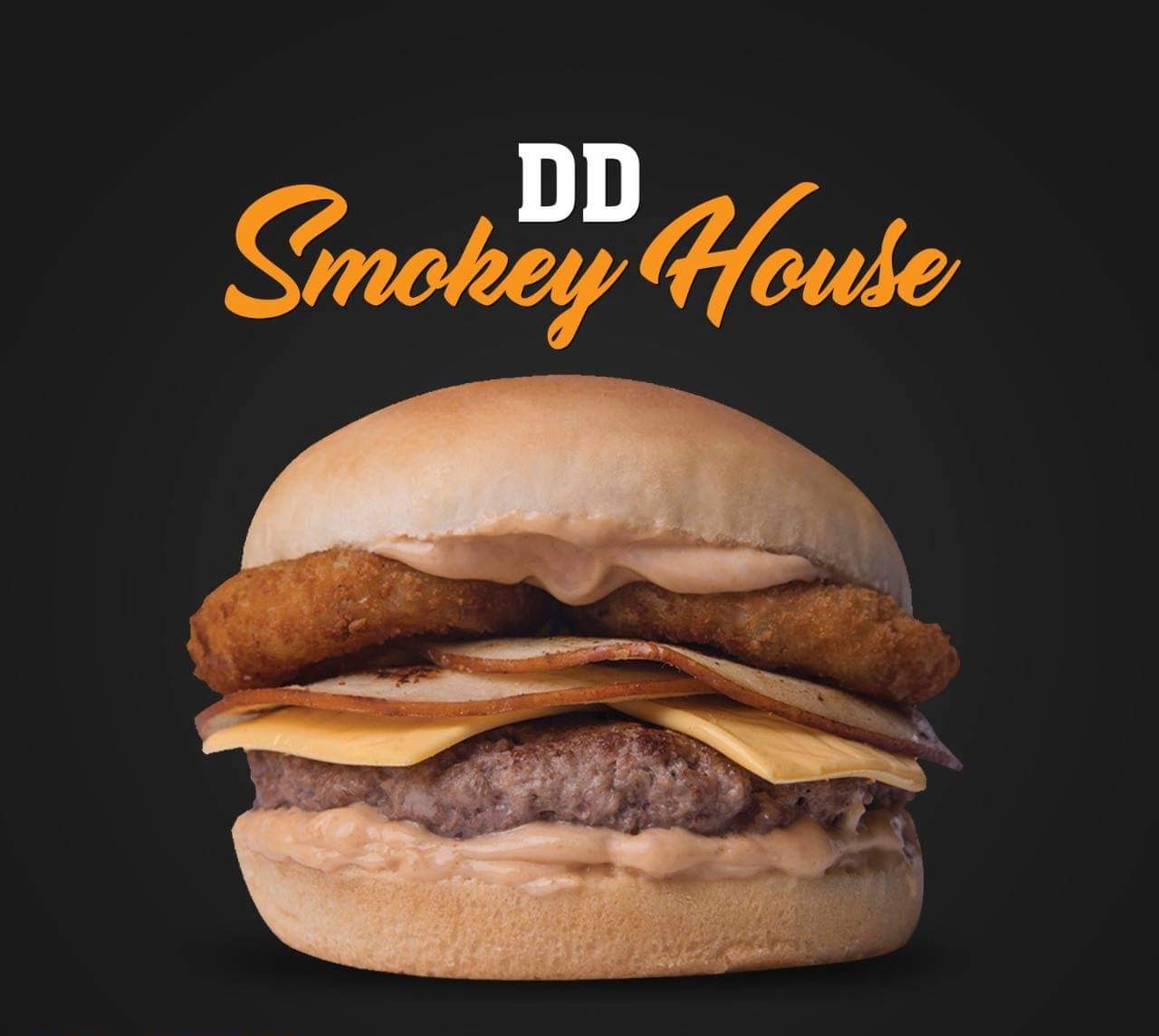 Tangy Jalapeno Burger
Daily Deli Co is known for making the most amazing burgers in Lahore and you will admit that after trying their juicy Tangy Jalapeno Burger. This burger will make you question why you didn't visit this place earlier. This fantastic burger is made with a patty with cheese, jalapenos, tomato and lettuce with awesome tangy sauce. All in all, you can enjoy this massive stuffed burger with a beverage of your liking to satisfy your taste buds.
Sandwich
Customers can get four distinctive sandwiches at the Daily Deli Co menu. These sandwiches
are made from scratch to perfection using only the freshest contents possible. They are so
yummy, tasteful and might just become your favorite breakfast meal after experiencing them for the first time. You should try their mouth watering Chicken Fajita Sandwich as well as BBQ Chicken Sandwich to boost up your mood for the whole day. These sandwiches will surely give you enough energy to survive your hectic day routine.
Chicken Alfredo Pasta
Get the gratifying Chicken Alfredo Pasta at the Daily Deli Co restaurant for your Italian food
cravings. This pasta is so crispy and titillating in taste. It costs 490 PKR which is quite
reasonable before its standard. Don't forget to get the sauce of your choice with this yummy
meal. You will never find something like this in the whole city.
Daily Deli Co Menu Price List
Appetizers
| | |
| --- | --- |
| Menu | Price |
| Mozzarella Cheese Sticks | Rs. 370 |
Original Burgers
| | |
| --- | --- |
| Menu | Price |
| DD Smoky House Burger | from Rs. 520 |
| DD Signature Burger | from Rs. 520 |
| Tangy Jalapeno Burger | from Rs. 520 |
| Cheesy Mushroom Burger | from Rs. 520 |
| The BBQ Burger | from Rs. 520 |
| DD Classic Burger | from Rs. 520 |
| Double Cheese with American Sauce | from Rs. 660 |
Premium Burgers
| | |
| --- | --- |
| Menu | Price |
| Molten Lava Burger | from Rs. 790 |
| The Messi | from Rs. 780 |
| Double Dose Burger | from Rs. 930 |
| Triple Dose Burger | from Rs. 1,200 |
Fried Thunder Fillet
| | |
| --- | --- |
| Menu | Price |
| Chicken Thunder Fillet | from Rs. 570 |
Premium Shakes
| | |
| --- | --- |
| Menu | Price |
| Hershey's Chocolate Shake | Rs. 370 |
| Chocolate Overdoze Shake | Rs. 370 |
| Oreo Shake | Rs. 370 |
| Cold Coffee Shake | Rs. 370 |
| Strawberry Banana Shake | Rs. 370 |
| Chocolate Banana Shake | Rs. 370 |
Beverages
| | |
| --- | --- |
| Menu | Price |
| Coca-Cola – 500 ml | Rs. 85 |
| Dasani Water – 500 ml | Rs. 50 |
Contact Daily Deli Co
https://www.facebook.com/TheDailyDeli/
Phone: 0311 1132459
Khayaban-e-Firdousi, Civic Centre Block D 2 Phase 1 Johar Town, Lahore, Punjab