Pizza Max Menu with Prices Pakistan 2023
Pizza Max Pakistan is a very famous fast food chain which has its branches in all major cities of Pakistan. Pizza Max menu is known for its high quality pizzas which are so heavenly in taste. Along with their delicious pizzas, they also serve gratifying Appetizers, Sandwiches, Pastas, and some energetic Beverages. All the food items are available at very reasonable prices.
Pizza Max was founded in 2009 and since then, it has been serving the food loving nation of
Pakistan with passion and dedication. They expanded their chain and as of now, they have up-to 30 outlets across the country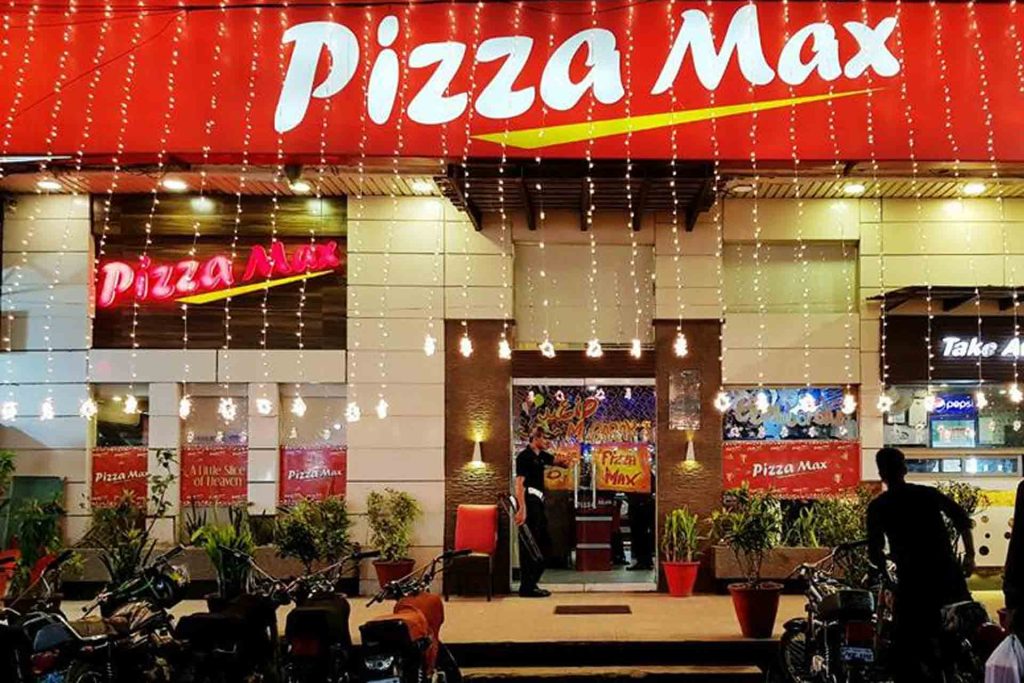 Pizza Max Pakistan Menu Best Items
There are so many food options at the restaurant but we will tell you only about the best items on the Pizza Max menu:
Royal Crown Pizza by Pizza Max
Pizza Max takes great pride while offering its signature Royal Crown Pizza to the customers. Royal Crown Pizza is available in different sizes like ten to thirteen inches. This is so tasty because they make it by using only the best ingredients possible. The prices vary from size to size so you can get regular size pizza at the price of 920 P.K.R including two Pepsi drinks. While the large pizza is available at the price of 1350 also including 1 liter Pepsi.There are so many food options at the restaurant but we will tell you only about the best items on the Pizza Max menu:
Pizza Max Sandwiches
Pizza Max menu also has delicious Sandwiches alongside their signature pizzas. These
Sandwiches are the best in every way from quality to quantity. There are various types that you can choose for your dining. People mostly order Chicken Sandwich, Stick-O-Sandwich and Roasted Beef Sandwich. All of them are served with coleslaw and fries which make your
experience memorable.
Lasagna and Pastas by Pizza Max
The Lasagna and Pastas are one of the best sellers at the Pizza Max restaurant. You can order several types of pasta such as creamy chicken, chicken and, last but not the least, beef pasta to satisfy your pasta cravings. Similarly, lasagna is also available in all these versions. These luscious food items are served with garlic bread to make your dining extreme good. Moreover, they are all, individually, available at the price of 650 P.K.R only.
Pizza Max Platter
The Max Platter is an exciting set of food at the Pizza Max store and it is available at a budget friendly rate. It includes various items like 2 PCs bread pizza, 2 PCs tangy wings, 2 PCs marinated nuggets, 2 PCs potato skins. Along with them, you will also get a generous portion of spicy french fries served with garlic mayo sauce for dipping. This platter is the best choice if you are planning to dine with a friend or a family member.
Creamy Super Max
Creamy Super Max is yet another mouth watering pizza available at the Pizza Max menu all
over the country. Its constituents include Marinated spicy chicken, mushrooms and tasty
jalapenos topped with mozzarella cheese. This pizza will make you come back again and again at the restaurant because its scrumptious taste is just unforgettable.
Pizza Max Menu with Prices
Scroll down below is the complete menu of Pizza Max with pricing information.
Max Value Deals
| Item | Prices |
| --- | --- |
| 7-inch pan Pizza | Rs. 299 |
| 7-inch P.Pan Pizza & 345 ml drink | Rs. 399 |
| 10-inch Regular Pizza & 2x 345 ml Soft Drink | Rs. 850 |
| 13-inch Large Pizza & 1 Liter Soft Drink | Rs. 1250 |
| 16-inch Jumbo Pizza & 1.5 Liter Soft Drink | Rs. 1699 |
2 Big 2 Better
| Item | Prices |
| --- | --- |
| 2 pan Pizza (7-inch) | Rs. 699 |
| 2 Regular Pizza (10-inch) | Rs. 1399 |
| 2 Large Pizza (13-inch) | Rs. 1999 |
| 2 Jumbo Pizza (16-inch) | Rs. 2799 |
Appetizers by Pizza Max Pakistan
| Item | Prices |
| --- | --- |
| Meaty Garlic Bread 4 Pcs With Dip Sauce | Rs. 350 |
| Cheese Garlic Bread 4 Pcs With Tomato Sauce | Rs. 300 |
| Chicken Nuggets 5 Pcs With Dip Sauce | From Rs. 299 |
| Finger Chicken Kebab 4 Pcs With Fries And Dip Sauce | Rs. 399 |
| Tangy Wings 6 Pcs With Dip Sauce | Rs. 350 |
| Mozzarella Sticks 4 Pcs With Tomato Sauce | Rs. 350 |
| Potato Skin 4 Pcs With Dip Sauce | Rs. 300 |
| Fries (Large Portion) With Dip Sauce | Rs. 220 |
| Garlic Mushroom (With Garlic Bread) | Rs. 350 |
Pastas
| Item | Prices |
| --- | --- |
| Creamy Pasta With 1pc Garlic Bread | Rs. 550 |
| Chicken Pasta With 1pc Garlic Bread | Rs. 550 |
| Creamy Lasagna With 1pc Garlic Bread | Rs. 599 |
| Chicken Lasagna With 1pc Garlic Bread | Rs. 599 |
| Beef Lasagna With 1pc Garlic Bread | Rs. 599 |
| Chicken Spaghetti With 1pc Garlic Bread | Rs. 550 |
Max Platter and Sandwiches
| Item | Prices |
| --- | --- |
| Large Platter | Rs. 1099 |
| Regular Platter | Rs. 599 |
| Stick-O-Sandwich With Coleslaw And Fries | Rs. 450 |
| Chicken Sandwich With Coleslaw And Fries | Rs. 450 |
| Roasted Beef Sandwich With Coleslaw And Fries | Rs. 450 |
Classic and Signature Pizza
| Item | Prices |
| --- | --- |
| 7-inch P.Pan Pizza | Rs. 550 |
| 10-inch Regular Pizza | Rs. 1090 |
| 13-inch Large Pizza | Rs. 1790 |
| 16-inch Jumbo Pizza | Rs. 2390 |
Pizza Max Beverages
| Item | Prices |
| --- | --- |
| Drink (345 ML) | Rs. 80 |
| Mineral Water | From Rs. 50 |
| Drinks 1 Liter | Rs. 140 |
| Drinks 1.5 Liter | Rs. 180 |
Contact Pizza Max Pakistan
ADDRESS:Pizza Max – Lyalpur Galleria, The Mall Outlet no 16 3rd Floor Court, Lyallapur Galleria, Faisalabad, Faisalabad
Pizza Max TIMINGS
Monday – Sunday: 11:00 AM – 11:00 PM
PHONE:042111629111
EMAIL:[email protected]
https://www.instagram.com/pizzamaxpk/?hl=en
https://www.facebook.com/pizzamaxpk