Savour Foods Menu Pakistan with Prices
Savour Foods Menu Pakistan is liked by every Pakistani as it specializes in making traditional Pakistani cuisines. Savour Pakistanis are best known for their Pulao Kabab which is so tasteful and spicy that it will make you visit the restaurant for the rest of your life. Along with their signature dish, they also serve 'without Kabab' dishes, Rice, Special Lunch meals, Chicken Roast, Sweets and several drinks.
Savour Foods, originally known as Savour, was founded in 1988 in Rawalpindi. It has been
quite successful because of its incredible food and customer service. They have only one
purpose which is to serve the best quality food at affordable prices.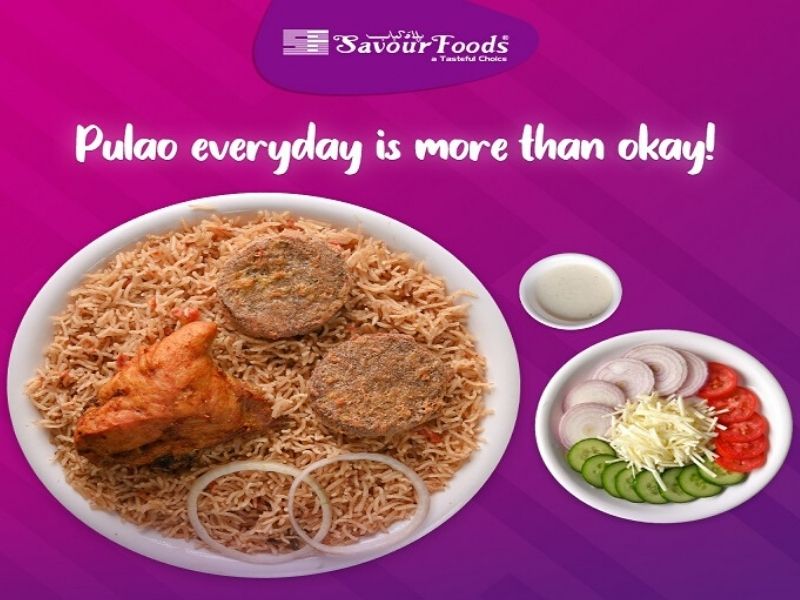 Savour Foods menu Pakistan Best Items
Savours Foods' menu has many food items but we will discuss only the best of them:
[table id=3 /]
Pulao Kabab
Pulao Kabab is the reason for Savour Menu immense popularity among food lovers. It is
one of the most ordered items from the entire menu. It is a platter of Rice with two Shami kabab which are served with freshly made salad and savoury traditional raita. The moment you taste it for the first time, this dish becomes your instant favourite and you don't need to look further for your food cravings. This awesome dish can be yours at the price of 150 PKR only.
Special Lunch Box
The Special Lunch Box in Savours menu is basically a platter of Rice accompanied
by two crispy chicken pieces, two Shami kababs packed with fresh salad and traditional raita in the lunch box. This lunch box will make lunch your favourite meal of the day. It contains enough food to satisfy your hungry tummy. Its price may vary from location to location but you won't regret spending money on it after feeling its luscious taste.
Chicken Roast
Chicken Roast is liked by food lovers throughout the country but Savour Foods restaurant
serves the best version of it to the visitors. You will have the privilege to order full or half
chicken roast whatever suits your appetite. This perfectly cooked chicken roast is served with yummy ketchup and lemons which increases its class. If you want to dine alone then this will be perfect for you as it is available at budget-friendly pricing.
Savour's Menu Sweets
The Savour's menu doesn't just serve spicy food to the food adventurers, it also serves
some traditional sweet dishes with great pleasure. You can order Zarda which is a traditional and colorful rice sweet dish served with cham cham and raisins. Along with Zarda, you can also order classic Kheer. It is made with ample quantities of milk and khoya which are not only healthy but also everyone's favorite in Pakistan.
FAQs about Savor Foods Pakistan
Who is the owner of Savour Foods?
Muhammad Naeem, a respected citizen, is the owner of Savour Foods.
How can I order Savour Food in Lahore?
To order food download the SAVOR APP now or Call their UAN 051 111 728687.
What are savour foods?
At Savour Foods
We source from local and international artisanal producers an exclusive range of cheese, meats, vinegar, oils, confectionery, and many other products. Contact us for a product list or call us to place an order. Savour Foods is a food wholesaler & sells only to registered food businesses.
Contact Savour Foods
Website: https://www.savourfoods.com.pk
Address: Fortune Plaza, 72-E, Jinnah Avenue, Blue Area, Islamabad, 44000 Islamabad
Contact Number. 2348097-9 UAN: 051-111-728687
Email Address: [email protected]
Social Plugins Facebook Page: @SavourFoodsPakistan
Instagram Page: savourfoodspk
Savour Food Outlets in Rawalpindi and Islamabad
| | |
| --- | --- |
| Branch | Address |
| Savour Food | Fortune Plaza, 2 Jinnah Ave, Block H G 7/2 Blue Area, Islamabad. |
| Savour Food | Melody Market, Shop 21 Municipal Rd, G-6 Markaz, Islamabad. |
| Savour Food Production Plant, Islamabad | Kallar Syedan Road, Rawalpindi, Islamabad. |
| Site 4 Savour's | Phase 5 Ghauri Town, Islamabad, Rawalpindi, Islamabad. |
| Savour's Food Polaw Kabab | Main Peshawar Road, near Kainat Travels, Rawalpindi. |
| Savour Foods | Pindi Food Street Pindi Cricket Stadium, Rawalpindi |
| Savour Foods | Gorden College Rd, Naya Mohalla, Rawalpindi, |
| Savour Foods | Bagh Sardaran St # 4, Chungi Number 4, Rawalpindi, |
| Savor Foods Plaza | Ch Shafaat Ahmed, Sohan, Islamabad, |
| Savour Food | Peshawar more, Grand Trunk Road, near Bahtar, Wah Cantt, Rawalpindi' |
Savour's Foods Menu Outlets in Lahore
| | |
| --- | --- |
| Branch | Address |
| Savour Foods | Syed Aashiq Hussain Rd, near Shama Chowk، Shershah Colony Lahore. |
| Savour Foods | McLeod Rd, Qila Gujjar Singh, Lahore, Punjab 54000, Pakistan |
| Savour Foods | Wyeth Housing Society Road, opposite A.M International, Lahore. |
| Savour Foods | Opp LESCO Airport Office, Airport Branch, Ghazi Rd, Lahore. |