Sakura Menu & Price At PC Hotels Nationwide
Well, if you are a Sushi lover and have a palate for Japanese food then you must know Sakura. Sakura is a Japanese restaurant at one of the five-star hotels i.e. PC Hotels and Resorts.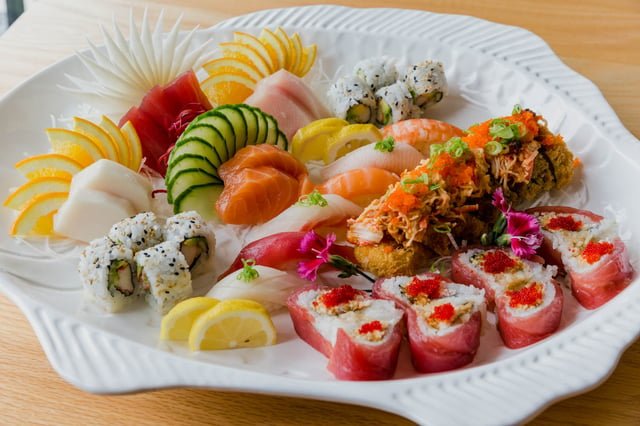 Sakura Menu is the true depiction of Japanese cuisine.Home Foodies tries to ensure complete accuracy of information displayed on its website.
Top 10 Chinese Restaurants in Islamabad
Sakura Soup Menu
| Menu | Price |
| --- | --- |
| Miso | 950 |
| Kani Tama | 950 |
| Dobin Mushi | 1350 |
Salad Bar
| Menu | Price |
| --- | --- |
| Salman, Crab and Avacado | 2225 |
| Volcano Salad | 1725 |
| Gomoku Salad | 2225 |
Menmono
| Menu | Price |
| --- | --- |
| Tempura Soba Or Udon | 1510 |
| Nabeyaki Udon | 1790 |
| Yaki Udon Or Soba | 1610 |
| GYU Curry Ramen | 3200 |
| Yaki Udon | 1490 |
| Zarusoba | 1150 |
| Kaki Udon Kaki Soba | 1150 |
Gohan (Rice Dishes)
| Menu | Price |
| --- | --- |
| Sushi | 650 |
| Garlic Rice | 725 |
| Steamed Rice | 650 |
Teriyaki
| Teriyaki Menu | Price |
| --- | --- |
| US Beef Tenderloin | 6550 |
| Local Beef Tenderloin | 1650 |
| Chicken Teriyaki | 1150 |
| Salmon Teriyaki | 3875 |
| Red Snapper Teriyaki | 1975 |
Teppanyaki A La Carte
| Menu | Price |
| --- | --- |
| Prawn | 2200 |
| Fresh Salmon | 3575 |
| Chicken Boneless | 1700 |
| US Angus Beef | 6550 |
| Local Beef Tenderloin | 1750 |
| Red Snapper | 1975 |
The Samurai Special
Menu
Price
Appetizer
Miso Soup or Crab Soup
Green Salad
US Beef Tenderloin or US Beef Sirloin
Teppan Vegetable
Steamed Rice or Mixed Fried Rice
Assorted Fresh Fruit Salad
Japanese Green tea
3310
La Montana Restaurant Islamabad Menu & Prices
Kaisenyaki Special
Menu
Price
Appetizer
Miso Soup or Crab Soup
Green Salad
Prawn & Vegetable Tempura or Assorted Sashimi
King Prawn, Hummour, Salmon & Scallop
Steamed Rice or Mixed Fried Rice
Assorted Fresh Fruit Salad
Japanese Green tea
4250
Shogun Special
Menu
Price
Appetizer
Miso Soup or Crab Soup
Green Salad
Prawn & Vegetable Tempura or Assorted Sashimi
Beef Tenderloin and Lobster Tail or Scallop, Salmon & Beef
Steamed Rice or Mixed Fried Rice
Assorted Fresh Fruit Salad
Japanese Green tea
4610
Desserts
| Menu | Price |
| --- | --- |
| Homemade Ice Cream With Black Sesame | 550 |
| Ice Green Tea With Soymilk | 550 |
| Mini Muffins With Green Tea | 550 |
| Japanese Crumble With Apples | 550 |
Appetizers
| Menu | Price |
| --- | --- |
| Edamame | 1050 |
| Japanese Gyoza | 1050 |
| Rock Shrimps | 1525 |
| Beef Tataki | 1550 |
| Yakitori BBQ | 950 |
| Salmon Tataki | 3650 |
| Tori Goma | 1050 |
| Salmon Takaki | 3650 |
| Shaker Foiru Yaki | 2400 |
Tempura Specials
| Menu | Price |
| --- | --- |
| Ebi Tempura | 600 |
| Wasabi | 1725 |
| Kaki Age | 1025 |
| Tempura Moriawase | 2250 |
Sakura Main Course
| Menu | Price |
| --- | --- |
| Unagi Kabayaki | 3875 |
| Gyu Yaki | 1325 |
| Gyu Or Tori Shogayaki | 1325 |
| Gyu Wasabi | 1675 |
| Gindara Saiko Yaki | 5050 |
Cold Beverages
| Menu | Price |
| --- | --- |
| Tetra Pack Juice | 430 |
| Pina Colada | 490 |
| Perrier Water Small | 950 |
| Perrier Water Large | 1900 |
| Mineral Water Small | 180 |
| Mineral Water Large | 290 |
| Lemon Mint Margetta | 490 |
| Iced Tea | 390 |
| Fresh Lime Soda / 7UP | 320 |
| Cold Coffee | 460 |
| Canned Soft Drinks | 280 |
Sakura Sushi Menu
Nigiri Sushi
| Menu | Price |
| --- | --- |
| Unagl Eel Sushi | 1750 |
| Kanistikku Carb Stick | 1750 |
| Ebi Prawn | 1025 |
| Shake Salmon | 1550 |
Hosso Makimono Sushi
| Menu | Price |
| --- | --- |
| California Maki | 1625 |
| Kappa Maki | 950 |
| Spicy Tuna Maki | 1250 |
| Spicy Salmon Maki | 1625 |
Sakura's House Special
| Menu | Price |
| --- | --- |
| Volcano Maki | 2325 |
| Crazy Maki | 2025 |
| Spider Maki | 2275 |
| Amna Maki | 1475 |
| Cappuccino Maki | 3025 |
| Crunchy Maki | 2950 |
| OJ Maki | 2950 |
Noodles
| Noodles Menu | Price |
| --- | --- |
| Yaki Soba or Udon (Noodles) | 1575 |
| Nabeyaki Udon (Noodles) | 1875 |
Sashimi Moriawase
| Menu | Price |
| --- | --- |
| Sakura Platter | 2950 |
| Special Sushi & Sashimi Platters | 4050 |
| Takada Platter | 2200 |
| Take Platter | 2200 |
| Ume Platter | 2200 |
| Salmon Only | 5950 |
Hot Beverages
Sakura PC Locations In Pakistan
| Branch | Address | Contact Number |
| --- | --- | --- |
| Pearl Continental Hotel Rawalpindi | The Mall، National Hwy 5, Rawalpindi. | (051) 111 505 505 |
| Pearl Continental Hotel Lahore | Shahrah-e-Quaid-e-Azam, G.O.R. – I, Lahore. | (042) 111 505 505 |
| Pearl Continental Hotel Karachi | PC Hotel Marquee, Club Rd, Civil Lines, Karachi | (021) 111 505 505 |