Best Seafood Restaurants in Karachi
If Karachi is known for anything, it's the delicious seafood that can be found all over the city. Karachi's coastal location gives it access to some of the finest seafood in the country, and the locals have some of the best seafood restaurants in Karachi that are experts at preparing it.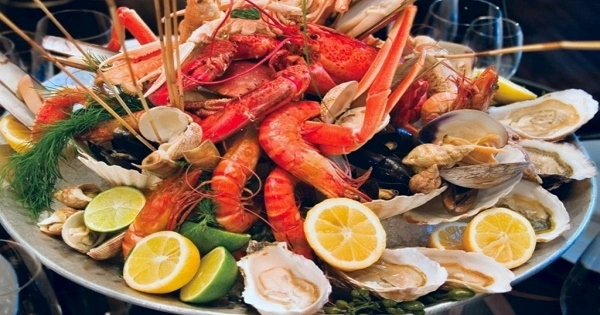 Karachi's seafood restaurants offer a wide variety of dishes that are guaranteed to satisfy any seafood lover's taste buds, from traditional fish curries to exotic sushi rolls. These places offer a distinctive and unforgettable dining experience that you won't find anywhere else, whether you're in the mood for a fun lunch or a special supper.
List of Best Seafood in Karachi
Karachi, the bustling coastal city of Pakistan, is a paradise for seafood enthusiasts. With its proximity to the Arabian Sea, the city boasts a plethora of seafood restaurants that offer a tantalizing array of dishes crafted from fresh catches of the day. From traditional Pakistani seafood delights to international flavors, Karachi's seafood scene is a treasure trove waiting to be explored. In this guide, we'll take you on a culinary journey to some of the finest seafood restaurants in the city.
Rashid Seafood
Akram Fish Point
MEAT & SEA
Mamu Fish Grill Original
Gills on Grill
Liaquat Bhai Fish Master
MashAllah Fish Katakat
Beach Luxury Hotel
Ghousia Seafood Point
Oyster Bay
Sakura
1. Rashid Seafood: A Taste of Tradition
Rashid Seafood stands tall among the best seafood restaurants in Karachi, celebrated for its mouthwatering traditional Pakistani dishes and an array of fresh shellfish options. The menu is a seafood lover's dream, featuring grilled fish, shrimp, and delectable shellfish platters. The laid-back ambiance coupled with reasonable prices makes Rashid Seafood an ideal choice for families and groups seeking a memorable dining experience.
Address: East Wharf Keamari, Karachi.
2. Akram Fish Point: A Seafood Haven
Located on Karachi's bustling university road, Akram Fish Point beckons seafood enthusiasts with its diverse range of offerings. From succulent Lahori Fish Biscuits to a unique Hara Dhanya flavor, their fish dishes are a treat for the taste buds. While the grilled seafood might fall slightly short of expectations, the ambiance and service are remarkable. The spacious and comfortable family seating area, complete with air conditioning, ensures a pleasant dining experience. Despite the tasteless and runny LAL CHUTNI, the overall experience at Akram Fish Point is truly delightful.
Address: Darul Furqan Apparment, Block 13/B Plot SB-11, Shop No: 4 Main University Rd, Gulshan-e-Iqbal.
3. MEAT & SEA: A Culinary Journey of Land and Ocean
For a high-quality seafood adventure, MEAT & SEA in Karachi is a must-visit. Their red snapper in tandoori is a culinary masterpiece that leaves taste buds craving for more. The menu boasts an array of seafood and poultry dishes, from chowder and roasts to Goan curries and tandoori shellfish. Ordering is made convenient through WhatsApp, and the exceptional food quality is complemented by fair pricing.
Address: Plot # 19-C, St # 1 Khayaban-e-Shamsheer, Phase V Saba Commercial Area Defence V Defence Housing Authority, Karachi.
4. Mamu Fish Grill Original: An Exquisite Seafood Experience
Mamu Fish Grill Original is a hidden gem in Karachi's culinary landscape, offering a delightful seafood experience. From freshly prepared shellfish to delectable fish and prawn dishes, the culinary offerings are a testament to quality. Although the seating area might not be grand, the focus remains on delivering outstanding cuisine. Notably, Mamu offers homemade seasonings to elevate home-cooked seafood. With shrimp and king fish as standout items, this restaurant is a must-visit for seafood aficionados.
Address: Plot 304 C Allama Iqbal Road, St 2, P.E.C.H.S. Karachi
5. Gills on Grill: A Tranquil Seafood Retreat
For families seeking tranquility, Gills on Grill is the ultimate seafood destination in Karachi. Offering fresh and high-quality seafood, the restaurant provides an ambiance that complements its offerings. The star of the menu is undoubtedly the octopus, which stands out as a delectable delight. Affordable pricing further enhances the appeal of Gills on Grill, making it a true seafood haven.
Address: Shop #3 61c bara bukhari, Bukhari Commercial Area Phase 6 Defence Housing Authority, Karachi.
6. Liaquat Bhai Fish Master: A Seafood Paradise
Liaquat Bhai Fish Master is a must-visit for locals and tourists alike. With an extensive range of fish dishes, including finger fish and grilled fish, this restaurant caters to diverse seafood preferences. While the open seating area might not suit everyone, the interior space offers comfort for families. The flavorful meals are complemented by excellent sauces, although parking can be a challenge due to narrow roadways.
Address: A 910, Sector 11-A Sector 11 A North Karachi Twp, Karachi.
7. MashAllah Fish Katakat: A Unique Seafood Experience
MashAllah Fish Katakat offers a distinctive seafood experience with a twist. Using fish fillets instead of traditional meats, the flavors are intriguingly different. Despite potential delays, the exceptional food quality compensates for any waiting time. The unpretentious atmosphere is eclipsed by the excellence of the cuisine, making this a must-visit spot for seafood enthusiasts.
Address: Purana dakhana chowrangi, Altaf Ali Barelvi Rd, Block 1 Liaquatabad Town.
8. Beach Luxury Hotel: Exquisite Seafood Dining
The Terrace at Beach Luxury Hotel offers a high-dining seafood experience with a view of the Arabian Sea. The outdoor setting enhances the dining atmosphere, while a range of seafood options, including crab, king prawns, and grilled fish, are the stars of the menu. Fresh vegetables and delectable sauces complete the culinary journey at this opulent establishment.
Address: Moulvi Tamizuddin Khan Rd, Lalazar Karachi.
9. Ghousia Seafood Point: A Gem for Seafood Lovers
Ghousia Seafood Point is a must-visit for seafood enthusiasts, offering a delectable assortment of broiled cut and whole fish. The barbecued Irani fish tikka is a standout delight. With reasonable pricing, the restaurant is a great choice for families seeking quality seafood. Despite the absence of a designated parking area, the overall experience is a delight for the taste buds.
Address: P.E.C.H.S Block 2 Block 2 PECHS, Karachi.
10. Oyster Bay: The Nation's First Crab Boil Eatery
Oyster Bay Restaurant, known for being Pakistan's first crab boil eatery, promises a unique dining experience. Their menu features an array of seafood dishes, including crab, king prawns, and grilled fish. With fresh vegetables and delectable sauces on the side, Oyster Bay's outdoor location offers a picturesque view of the Arabian Sea. Whether you're a seafood lover or an adventurer seeking new culinary experiences, Oyster Bay is a must-visit.
Address: Shop 2, 39-C Khayaban-e-Seher, D.H.A Phase 6 Shahbaz Commercial Area Phase 6 Defence Housing Authority, Karachi.
11. Sakura: A Fusion of Flavor and Service
Sakura Menu & Price At PC Hotels Nationwide
Sakura restaurant in Karachi offers an exceptional dining experience with a focus on incredible food. While the service might be a tad slow, the excellence of the dishes overshadows any minor delays. From crab and tuna to jalapeño and cheese sushi, the cuisine tantalizes the taste buds. Despite being slightly understaffed, Sakura's culinary offerings are a testament to quality and flavor.
Address: PC Hotel Marquee, Club Rd, Civil Lines, Karachi.