Ghalib Restaurant Menu & Prices 2023
Are you looking for a good quality restaurant with a great ambiance? Then you must Check Ghalib Restaurant Menu in Karachi. It is a rooftop restaurant that is newly constructed. It is gradually becoming well-known for its incredible array of mouthwatering culinary creations. Also, an extraordinary view from the rooftop terrace comes as a bonus.
Ghalib Restaurant is a newly built restaurant and is famous for its extra ordinary ambiance and interior design. Besides its amazing decor Ghalib restaurant also offer a wide variety of scrumptious food.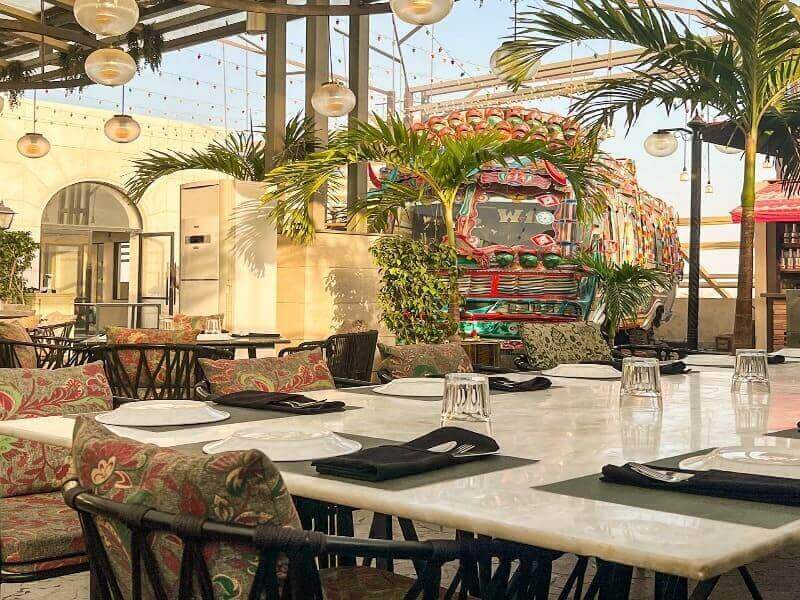 The Ghalib Restaurant menu offers a unique and diverse range of cuisine. Each dish is tasteful and crafted with love and cares for a delicious dining experience.
Ghalib Restaurant is the ideal spot for special occasions. They offer a beautiful atmosphere and delightful service. So, here is the full Ghalib Restaurant Karachi menu with a price list to know what they offer.
Ghalib Restaurant Menu with Price List
Ghalib Restaurant Menu: Starters
| | |
| --- | --- |
| Menu | Price List |
| Chicken Corn Soup | Rs. 300 |
| Hot & Sour Soup | Rs. 300 |
| Cream of Chicken Soup | Rs. 300 |
| Roasted Garlic Tomato Soup | Rs. 300 |
| Mulligatawny Soup | Rs. 300 |
| Seafood Chowder Soup | Rs. 490 |
| Grilled Chicken Caesar Salad | Rs. 790 |
| Fattoush | Rs. 690 |
| Hummus | Rs. 450 |
| Cheese Naan | Rs. 390 |
| Lahori Fish | Rs. 790 |
| Barbeque Wings | Rs. 690 |
| Spicy Grilled Wings | Rs. 690 |
| Dynamite Prawns | Rs. 870 |
| Prawn Tempura | Rs. 1400 |
| Vegetable Spring Rolls | Rs. 690 |
| Peri Bites | Rs. 770 |
| Cheesy Chicken Strips & Fries | Rs. 880 |
| Loaded Fries | Rs. 790 |
| Regular Fries | Rs. 370 |
| Fresh Green Salad | Rs. 325 |
| Raita | Rs. 175 |
Chaats
| | |
| --- | --- |
| Menu | Price List |
| Mix Chaat | Rs. 295 |
| Pani Puri | Rs. 295 |
| Meethi Puri | Rs. 295 |
| Bhel Puri | Rs. 295 |
| Sev Puri | Rs. 295 |
Ghalib Restaurant Menu: Bar BQ
| | |
| --- | --- |
| Menu | Price List |
| Chicken Tikka | Rs. 525 |
| Fish Tikka | Rs. 940 |
| Chicken Malai Boti | Rs. 850 |
| Shish Taouk (Served with Saffron Rice & Fries) | Rs. 950 |
| Afghani Boti | Rs. 990 |
| Seekh Kabab (Beef) | Rs. 950 |
| BBQ Chicken Shashlik | Rs. 950 |
| Turkish Kabab (Chicken) (Served with Saffron Rice) | Rs. 990 |
| Beef Bihari Kabab | Rs. 990 |
| Chicken Bihari Kabab | Rs. 850 |
| Beef Chullu Kabab (Served with Rice) | Rs. 990 |
| Persian Khaas Kabab (Mutton) | Rs. 1450 |
| Reshmi Chicken Kabab | Rs. 850 |
| Makhmali Chicken Kabab | Rs. 850 |
| Fry Kabab (Beef) | Rs. 890 |
| Mutton Masala Chanp | Rs. 1440 |
| Mutton Ribs | Rs. 2890 |
| Mix Platter (Turkish Kabab, Persian Khaas Kabab, Chicken Malai Boti, Afghani Boti, and Mutton Masala Chanp Served on a Bed of Saffron Rice) | Rs. 2900 |
Karahi
| | |
| --- | --- |
| Menu | Price List |
| Chicken Peshawari Karahi (Half) | Rs. 1390 |
| Chicken Peshawari Karahi (Full) | Rs. 2050 |
| Chicken White Karahi (Half) | Rs. 1390 |
| Chicken White Karahi (Full) | Rs. 2050 |
| Mutton Peshawari Karahi (Half) | Rs. 1850 |
| Mutton Peshawari Karahi (Full) | Rs. 2950 |
| Mutton White Karahi (Half) | Rs. 1850 |
| Mutton White Karahi (Full) | Rs. 2950 |
| Ghalib Signature Mutton Karahi (Half) | Rs. 1850 |
| Ghalib Signature Mutton Karahi (Full) | Rs. 2950 |
Ghalib Restaurant Menu: Handi
| | |
| --- | --- |
| Menu | Price List |
| Chicken Makhni Handi | Rs. 1590 |
| Chicken Paneer Reshmi Handi | Rs. 1690 |
| Chicken Hunzai Handi | Rs. 1590 |
Chef's Recommendation
| | |
| --- | --- |
| Menu | Price List |
| Tarka Daal | Rs. 750 |
| Palak Paneer | Rs. 840 |
| Mix Sabzi Masala | Rs. 950 |
| Balochi Sajji | Rs. 990 |
| Lahori Chargha | Rs. 990 |
| Chicken Tikka Masala | Rs. 1490 |
| Prawn Masala | Rs. 1590 |
| Brain Masala | Rs. 1500 |
Flavors of the World
| | |
| --- | --- |
| Menu | Price List |
| Ghalib Club Sandwich | Rs. 850 |
| Turkey Club Sandwich | Rs. 940 |
| Triple Cheese Roast Beef Sandwich | Rs. 890 |
| Crispy Fried Chicken Burger | Rs. 950 |
| Chicken Burger with House Sauce | Rs. 950 |
| Ghalib Chicken Burger with Garlic Mayo | Rs. 950 |
| Chargrilled Beef Burger with Cheddar Mushrooms | Rs. 950 |
| Alfredo Pasta | Rs. 940 |
| Parmesan Shrimp Spaghetti | Rs. 1050 |
| Pasta in Special Signature Sauce | Rs. 1050 |
| Fish & Chips | Rs. 1050 |
| Tarragon Chicken | Rs. 990 |
| Moroccan Chicken | Rs. 990 |
| Parmesan Chicken | Rs. 1090 |
| Beef Stroganoff Served with Mashed Potatoes | Rs. 1050 |
Ghalib Restaurant Menu: Steaks
| | |
| --- | --- |
| Menu | Price List |
| Chicken Steak with Creamy Tarragon / Pepper Sauce | Rs. 1290 |
| Beef Steak with Creamy Tarragon / Pepper Sauce | Rs. 1690 |
| Decked Beef Steak with Mushroom Sauce | Rs. 1690 |
| American Beef Steak | Rs. 1690 |
Brick Oven Pizza
| | |
| --- | --- |
| Menu | Price List |
| Margherita Pizza | Rs. 890 |
| Chicken Fajita Pizza | Rs. 1340 |
| Pepperoni Pizza | Rs. 1290 |
| Chicken Tikka Pizza | Rs. 1340 |
| Spicy Sicilian Pizza | Rs. 1290 |
Naan / Paratha / Chapati
| | |
| --- | --- |
| Menu | Price List |
| Plain Naan | Rs. 55 |
| Garlic Naan | Rs. 100 |
| Roghni Naan | Rs. 100 |
| Kandhari Naan | Rs. 90 |
| Cheese Naan | Rs. 390 |
| Lacha Paratha | Rs. 100 |
| Puri Paratha | Rs. 100 |
| Chapati | Rs. 50 |
| Whole Wheat Roti | Rs. 50 |
Cold Beverages
| | |
| --- | --- |
| Menu | Price List |
| Soft Drinks | Rs. 150 |
| Mineral Water (Small) | Rs. 120 |
| Mineral Water (Large) | Rs. 180 |
| Mint Lemonade | Rs. 330 |
| Fresh Juice | Rs. 390 |
| Pina Colada | Rs. 340 |
| Ice Tea | Rs. 330 |
| Meethi Lassi | Rs. 240 |
| Namkeen Lassi | Rs. 240 |
| Sugarcane Juice | Rs. 200 |
| Guava Refresher | Rs. 320 |
| Red Lady (Seasonal) (Blend of Strawberry, Orange, and Kiwi) | Rs. 340 |
| Cuban Peach Cocktail | Rs. 340 |
| Mango Peach Paradise | Rs. 340 |
| Tropicana (Blend of Orange, Pineapple, and Blueberry) | Rs. 340 |
| Sparkling Peach Margarita | Rs. 340 |
| Peachy Lychee | Rs. 340 |
Hot Beverages
| | |
| --- | --- |
| Menu | Price List |
| Kehwa | Rs. 175 |
| Doodh Patti | Rs. 260 |
| Kashmiri Chai | Rs. 290 |
| Elaichi Chai | Rs. 190 |
Desserts
| | |
| --- | --- |
| Menu | Price List |
| Ice Cream (Vanilla, Strawberry, and Chocolate) | Rs. 220 |
| Kulfi Falooda | Rs. 390 |
| Rabri | Rs. 390 |
| Hot Gulab Jamun | Rs. 275 |
| Crispy Jalebi | Rs. 390 |
| Chocolate Fudge Brownie (Served with Ice Cream) | Rs. 475 |
| Chocolate Divine Cake Slice | Rs. 425 |
| Chocolate Divine Cake 2 Pounds | Rs. 2500 |
Website: https://www.ghalib.com.pk
Contact Number: 021-111-442-542
Facebook Page: @ghalib.pakistan
Instagram: ghalib.pakistan
Ghalib Restaurant Timings
Weekend Timings: 6:00 PM to 1:00 AM
Weekdays Timings: 6:00 PM to 12:00 AM