Best Restaurants in Johar Town Lahore
Johar Town in Lahore, Pakistan, is a haven for food lovers, as its restaurants cater to diverse tastes and preferences. Whether you're in the mood for authentic Pakistani delicacies or crave the flavors of Chinese cuisine, you'll discover a wide range of eateries serving delectable dishes to satiate any palate.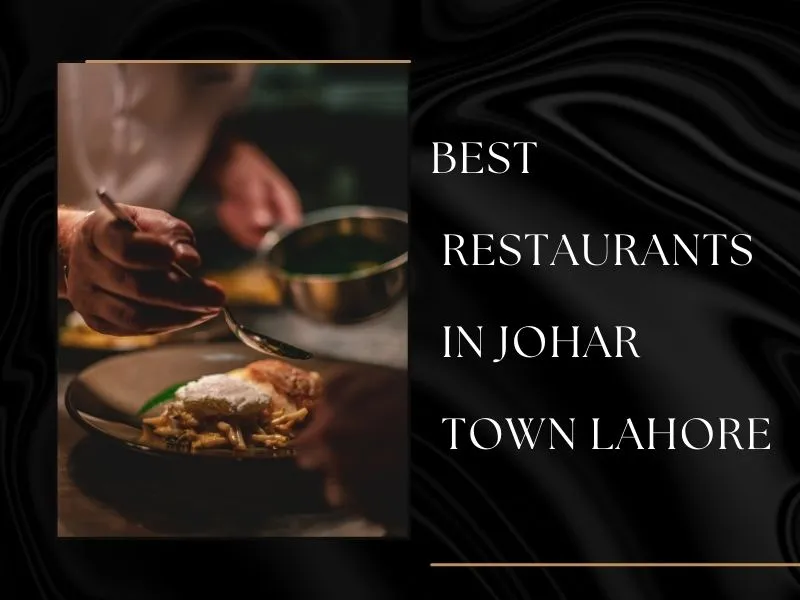 In Johar Town, you'll find a multitude of popular restaurants that have gained fame for their mouthwatering offerings. Whether you're seeking a casual dining experience or a more refined ambiance, there are establishments like Al-Dewan Restaurant and Saffron that provide a touch of elegance and sophistication. With an array of culinary choices available, Johar Town's restaurants offer a complete gastronomic experience for
Restaurants and Cafes in Johar Town Lahore
1. BFC Restaurant Johar Town Lahore
BFC Restaurant in Lahore, located in Johar Town, has garnered a devoted following with its delectable Arabic cuisine, fish burger, Shawarma, and chicken burger. Beyond the mouthwatering dishes, the restaurant's warm and inviting atmosphere entices diners to savor their meals in this delightful establishment.
Location: Main Boulevard, Johar Town, Lahore, Pakistan
Contact: 042-35290203
2. Al-Dewan Restaurant  Johar Town Lahore
Al-Dewan Restaurant, situated in Johar Town, is a local favorite for its scrumptious and affordably priced Arabian, Pakistani, and Continental fare. This eatery offers a serene setting, perfect for enjoying quality time with loved ones. The menu boasts dishes of exceptional quality, particularly the white karahi, a must-try specialty.
Location: Main Boulevard, Khokar Chowk, Johar Town Phase 2, Lahore, Pakistan
Contact: 042-35290204
3. Saffron Restaurant
Saffron Restaurant, a popular hangout spot in Johar Town, caters to patrons of all ages. With a diverse menu featuring coffee, tea, soda, juice, rice, noodles, Paratha rolls, Chinese fish, and burgers, there's something to satisfy every craving. This smoke-free establishment allows guests to unwind and indulge in the flavors while enjoying Sheesha. Although the prices may be slightly higher, the soothing ambiance is worth every penny, attracting patrons from the upper echelons of society.
Location: M.A Johar Town Scheme, Lahore, Pakistan
Contact: +92-42 5203549
Best Nashta (Breakfast) Places in Lahore
4. Gourmet Restaurant Johar Town
Gourmet Restaurant Johar Town has been a pillar of the community, serving healthy and delicious meals at affordable prices for many years. With an unwavering commitment to quality, Gourmet Restaurant Johar Town has become a trusted dining destination, winning over customers with its exceptional taste and reliable brand.
As they continue to expand and improve, Gourmet Restaurant Johar Town remains dedicated to its mission of providing accessible and affordable dining experiences. A true gem in the heart of Lahore.
Gourmet Restaurant Lahore Menu & Prices
Address: Faisal town, Lahore, Pakistan
Contact: +92 42 111 111 157
5. Biryani Hut
Biryani Hut Lahore offers an unforgettable biryani experience that surpasses those of renowned restaurants in major cities. The flavors are exceptional, and their barbecue dishes are out of this world. This Johar Town restaurant is a must-visit for group meals, making it a top choice in Lahore.
Location: Main Blvd, Block G, Johar Town, Lahore, Pakistan
Contact: 03018400667
6. Subway in Johar Town
Subway in Johar Town, part of the global chain, takes pride in serving delicious and nutritious meals in a comfortable setting. With their transparent food preparation process, customers can take their time to ensure everything is spotless before enjoying their meal.
Location: Block H-2, Johar Town, Lahore
7. Yasir Broast
Yasir Broast in Johar Town is a beloved eatery, appreciated by locals and visitors alike for its superb meals and peaceful atmosphere. It caters to individuals of all ages and boasts a competent and friendly wait staff. Their takeout menu features popular items like Chicken Malai Piece, Chicken Kabab, Chicken Cheese Kabab, Beef Kabab, Chicken Reshmi Kabab, and Mutton Seekh Kabab.
Location: Main Boulevard, Johar Town, Lahore, Pakistan, next to Shaukat Khanam Hospital
Contact: 042-35312350-54
Yasir Broast Pakistan Menu and Prices
8. Pizza Hut  Johar Town
Pizza Hut in Johar Town is part of the well-known global chain, offering a wide variety of pizza options. With more than a hundred locations in Pakistan, Pizza Hut attracts customers with its appetizers, pastas, soups, salads, desserts, sandwiches, and, of course, delicious pizzas like Bihari Chicken Pizza, Chicken Tandoori Pizza, Karahi Chicken Pizza, Chicken Tikka Pizza, BBQ Chicken Pizza, Chapli Kabab Pizza, and more.
Location: Plot 15, N-Block, Johar Town, Lahore, Pakistan
Contact: 111-241241
9. Cheezious Johar Town
Cheezious Johar Town stands out as an excellent restaurant, boasting a diverse menu that includes appetizers, pizza, sandwiches, pasta, burgers, and more. Each dish bursts with flavor, thanks to the finest and freshest ingredients. Despite the exceptional quality, the prices remain reasonable, making Cheezious a popular dining choice.
Contact: 111 44 66 999
Address: 446, Block G3 Block G 3 Phase 2, Johar Town, Lahore, Punjab
10. Hen N' Bun in Johar Town
Hen N' Bun in Johar Town is a must-visit for food enthusiasts seeking unique and distinct cuisines. This restaurant's Arabian broast, nuggets, dips, and fries rival those served at Al-Baik's, offering a similar atmosphere. The specialty of Hen N' Bun is their tantalizing broast chicken, surpassing any other roast you may have tasted in Lahore.
Contact: +92 304 1110405
Address: 18, R2, Block R 2 Phase 2, Johar Town, Lahore.