Best Fine Dining Restaurants in Lahore
Lahore is renowned for its culinary heritage and dynamic food culture, offering a diverse array of dining choices that cater to all tastes. From delectable street food to high-end establishments, the city presents a wealth of options for discerning food enthusiasts. Within this article, we shall showcase the seven most exceptional dining venues in Lahore.
These restaurants have gained acclaim for their exquisite cuisine, opulent ambience, and impeccable hospitality. Whether you desire to commemorate a special occasion or indulge in a gourmet feast, these establishments guarantee an extraordinary dining affair. Let us embark on a journey into the realm of Lahore's fine dining scene as we explore the city's finest culinary destinations.
1. El Momento
El Momento is a renowned restaurant in Lahore that offers an unparalleled fine dining experience. It is widely acclaimed for its exceptional cuisine, luxurious atmosphere, and impeccable service, making it one of the city's premier dining destinations.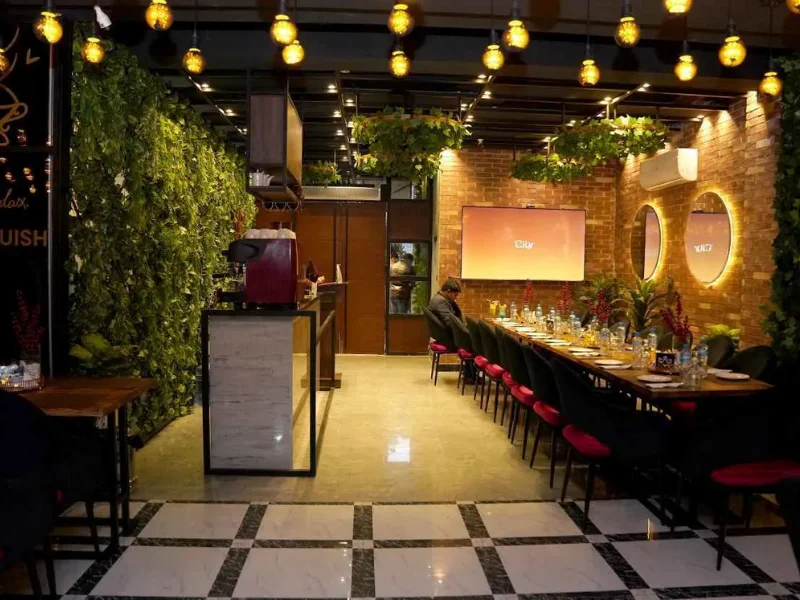 The restaurant presents an extensive and diverse menu, featuring a wide selection of delectable steak cuts to satisfy every palate. Whether you crave a classic sirloin, a tender fillet, or a juicy rib-eye, El Momento caters to all preferences. Furthermore, the restaurant provides an array of sauces and sides to complement the steaks, allowing diners to personalize their meals to perfection.
El Momento's opulent ambiance adds to its popularity as a top choice for fine dining in Lahore. With exquisite decor, soft lighting, and a warm, inviting atmosphere, the interior is meticulously designed to create a sophisticated and comfortable setting. The spacious and comfortable seating arrangements enable guests to relax and relish their dining experience.
Address: Building 43-L2, Ground floor, Mini Market, MM Alam Rd, Block L Gulberg 2, Lahore.
2. Haveli Restaurant
Haveli restaurant is a highly sought-after dining establishment in Lahore, Pakistan. It has established a reputation for delivering a distinctive and authentic dining affair. Haveli is renowned for its delightful cuisine, which harmoniously blends traditional and contemporary flavors, resulting in a memorable and gratifying culinary experience.
The restaurant's elegant and captivating ambiance is sure to captivate every visitor, while the hospitable and attentive staff ensure that each guest feels warmly welcomed. Haveli's extensive menu offers a wide range of dishes, catering to both vegetarians and non-vegetarians with equal finesse.
Address: Badshahi Mosque, 2170-A Food St Fort Rd, Shahi Mohallah Lahore.
3. Andaaz Restaurant
Andaaz restaurant stands out as one of the premier dining destinations in Lahore, Pakistan. It offers its patrons an exceptional and memorable dining experience with an authentic touch. Known for its tantalizing cuisine, Andaaz showcases traditional Pakistani dishes infused with modern twists.
The restaurant boasts an ambiance that seamlessly combines elegance and sophistication, featuring a fusion of modern and traditional decor. The friendly and attentive staff ensure that guests feel right at home. For those seeking a more intimate dining experience, Andaaz also offers a private dining area.
Address: 2189 A Fort Rd, Shahi Mohallah Walled City of Lahore.
4. Spice Bazaar
Spice Bazaar is a top-rated restaurant in Lahore, Pakistan, offering an extraordinary dining experience with a delectable selection of Pakistani and Indian dishes that are bound to tantalize your taste buds.
The warm and inviting ambiance of the restaurant, featuring a blend of modern and traditional decor, creates a welcoming atmosphere. The friendly and attentive staff further enhances the dining experience. Spice Bazaar's extensive menu caters to a variety of preferences, including both vegetarian and non-vegetarian options. The restaurant's signature dishes, such as the Butter Chicken and Haleem, are particularly renowned.
Address: T-01, Tipu Rd, off MM Alam Road, Lahore.
5. Cafe Aylanto
Cafe Aylanto stands as one of the finest dining establishments in Lahore, Pakistan. It is widely recognized for its elegant ambiance, exceptional cuisine, and outstanding service. The restaurant's menu offers a fusion of Mediterranean and Continental dishes, with a special emphasis on Italian delicacies.
The chic and modern ambiance of Cafe Aylanto creates a relaxed and comfortable atmosphere for guests. The friendly and courteous staff is always eager to assist, ensuring a welcoming experience. The extensive menu includes a variety of dishes, catering to both vegetarians and non-vegetarians. The restaurant's pizza and pasta dishes, prepared with the freshest ingredients and authentic Italian flavors, are particularly renowned.
Complete Cafe Aylanto Menu and Prices
Address: 12 C1 MM Alam Rd, Block C1 Block C 1 Gulberg III, Lahore.
6. Dynasty
Dynasty Restaurant is a highly regarded dining establishment in Lahore, Pakistan, offering an exceptional experience for Chinese cuisine enthusiasts. The restaurant's exquisite Chinese dishes and impressive ambiance make it a favored choice for fine dining in the city.
The elegant and sophisticated ambiance of Dynasty combines traditional and modern Chinese decor, creating a visually pleasing setting. The attentive and friendly staff ensures excellent service for every guest. Dynasty's extensive menu features a variety of Chinese delicacies, including Wok Fried Calamari and Wok Fried Singapore Noodles.
Address: 87 Shahrah-e Quaid-e-Azam Avari Lahore,Pakistan
7. Cooco's Den
Cooco's Den is a unique and enchanting restaurant in Lahore, Pakistan, celebrated for its exceptional cuisine and beautiful ambiance. Located on the rooftop of a 19th-century haveli in the heart of the old city, it offers a stunning view of the historic Lahore Fort.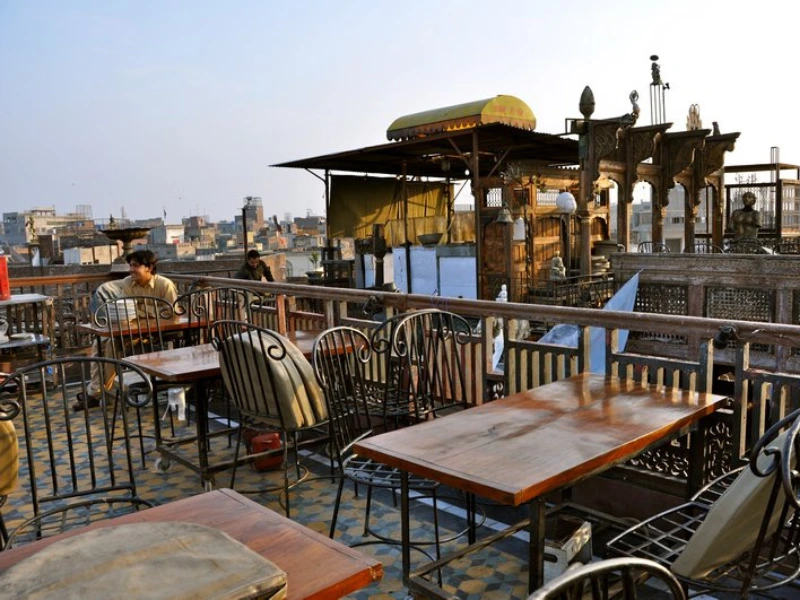 The rustic and traditional ambiance of Cooco's Den creates a cozy and intimate atmosphere. The friendly and attentive staff ensures outstanding customer service. The extensive menu showcases a variety of Pakistani and Continental dishes, with options for both vegetarians and non-vegetarians.
Address: Roshnai Gate, 2168/A Food St Fort Rd, Shahi Mohallah Lahore.