O Donuts Menu Pakistan with Prices 2023

O Donuts menu boasts of serving the best quality donuts in Pakistan. Their donuts are
especially made with the highest quality possible constituents and give the donuts lovers a kick to their taste buds. O Donuts menu is known for its unique, juicy and tasty varieties of Donuts accompanied with OD Burgers, OD Sandwiches, Cold Drinks, Frappe, Slushiest, Premium Gelato Shakes, and some other extras.
Despite the top notch quality items, the owners have kept the price rates very affordable so that everyone could enjoy their delights. O Donuts has its branches in several cities of Pakistan including Lahore and Karachi. They treat the customers with respect and serve your order as soon as possible.
O Donuts Menu Best Items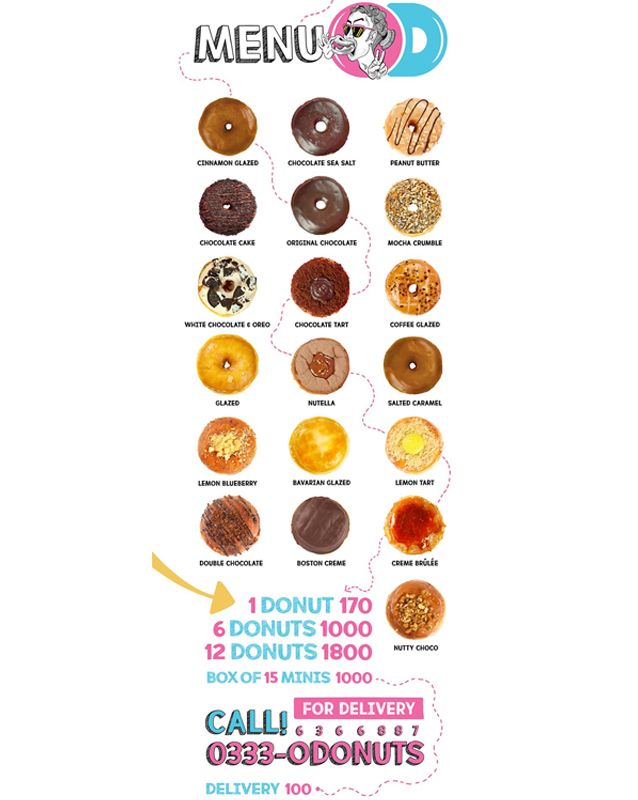 O Donuts menu basically serves various deals majorly containing their signature donuts. Here we will discuss the best items on O Donuts restaurant menu:
Donuts:
O Donuts takes great pride while offering its marvelously awesome, creamy and juicy donuts which will melt in your mouth. Their products are so delightful and praiseworthy for their amazing quality and taste. They serve their donuts in the box of two to twelve items which can be enjoyed in gatherings and celebrations. You can order Snickers, Malt Cake, Cinnamon Swirl, Cinnamon Glazed, Plain Chocolate, Choco Sprinkle, Red velvet and many more sweet items for your mellow food cravings.
OD Burgers
O Donuts menu makes things fascinating at the food store with their Donuts shaped burgers. These uniquely designed burgers are found only at their place therefore you may find a great crowd at the store on your every visit. Double Cheese and Original burgers are one of the best sellers from the entire menu so make sure you order these must try items whenever you visit the O Donuts restaurant. Make sure you grab your favorite beverage to make your experience unforgettable.
OD Sandwiches
Along with their signature donuts and burgers, O Donuts menu also serves some
distinguishable sandwiches to the food adventurers in Pakistan. You should try their Spicy
Pakistani sandwich because it includes Tandoori Chicken Masala, Onions, Cheese and
Tomatoes. All these ingredients come together to complete this sandwich and then they are
served in a butter croissant. Chicken Honey Mustard is yet another magnificent item that will give you a gratifying taste with aesthetic aroma. All the sandwiches are available at the price of 690 PKR only.
Premium Gelato Shakes:
Premium Gelato Shakes are made to order at the O Donuts restaurant. Every shake can stand on its own for its look and unique taste. Just like the sandwiches, all the shakes are made available to the customers at the same cost. So don't bother about the price and just ask for their heavenly shakes such as Lotus Shake, Mocha Shake and Salted Caramel Shake and live the moment.
O Donuts Menu with Prices
Below down is the complete O Donuts Pakistan menu with pricing information.
Donuts
| | |
| --- | --- |
| Dozen Donuts | From Rs. 1800 |
| Donuts | From Rs. 150 |
| Half Dozen Donuts | From Rs. 900 |
Sandwiches
| | |
| --- | --- |
| Item | Price |
| Spicy BBQ Chicken | From Rs. 490 |
| Flaming Chicken Tikka | From Rs. 490 |
| Chicken Fajita Fiesta | From Rs. 490 |
| Brooklyn Chicken Bologna | From Rs. 490 |
| Roasted Beefsteak Deluxe | From Rs. 490 |
| Southwest Carnita Grande | From Rs. 490 |
| Breakfast Egg & Cheese | From Rs. 490 |
| Owsome Omwich | From Rs. 490 |
Cold Beverages
| | |
| --- | --- |
| Alaska Supreme | From Rs. 460 |
| Mars Shake | Rs. 460 |
| Bounty Shake | Rs. 460 |
| Oreo Shake | Rs. 460 |
| Strawberry Shake | Rs. 460 |
| Chocolate Shake | Rs. 460 |
| Vanila Shake | Rs. 460 |
| Blueberry Shake | Rs. 460 |
| Salted Caramel Shake | Rs. 460 |
| Strawberry Cheesecake Shake | Rs. 460 |
| Kit Kat Shake | Rs. 460 |
| Hazelnut Shake | Rs. 460 |
| Butter Cookie Crunch Shake | Rs. 460 |
Hot Beverages
| | |
| --- | --- |
| Americano | From Rs. 290 |
| Cappuccino | From Rs. 290 |
| Latte | From Rs. 290 |
Other Beverages
| | |
| --- | --- |
| Sprite | Rs. 100 |
| Fanta | Rs. 100 |
| Zero Sprite | Rs. 100 |
| Coke | Rs. 100 |
| Mineral Water | Rs. 100 |
| Orange Cappy Juice | Rs. 100 |
| Red Bull | Rs. 350 |
| Diet Coke | Rs. 90 |
Contact O Donuts Pakistan:
O Donuts Karachi Number:021111636363
https://www.facebook.com/ODonutpk/