JuiceLand Islamabad Menu and Price List 2023
When folks in Islamabad want something wholesome and pleasant, they go to Juiceland. Customers can choose from a variety of fresh and healthy juices at Juiceland. In addition to juices, they serve smoothies, Coladas, shakes, and homemade ice cream. Not only that, but to satisfy Pakistani tastes, they serve Desi snacks such as chana chaat, gol gappy, and salads.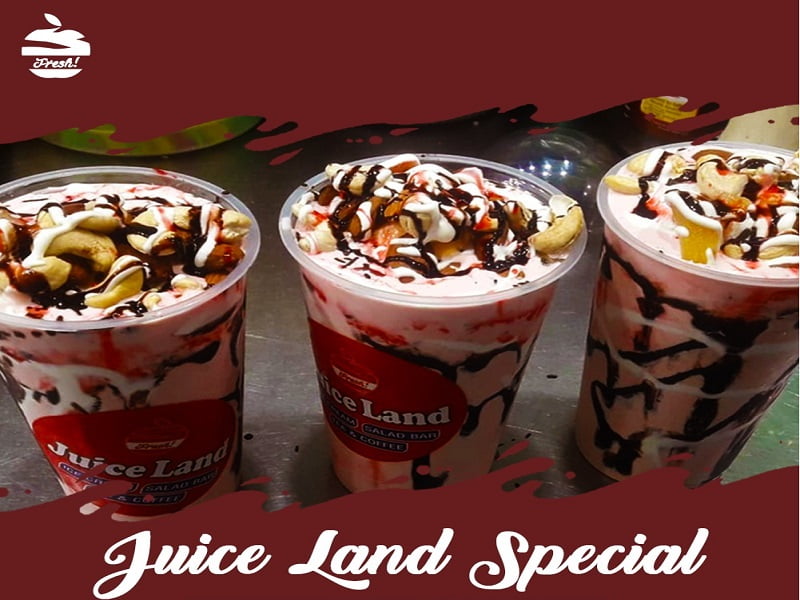 Juiceland only uses pure and fresh fruits in its drinks, which is why its juices are considered the best nutritious juices in Islamabad. They provide both sit-in and take-out services. You can also order their items online through the FoodPanda app.
Juiceland Featured Menu
| Items | Price |
| --- | --- |
| Mosambi Juice | ₨ 330.00 |
| Orange Juice | ₨ 330.00 |
| Grapefruit Juice | ₨ 330.00 |
| Strawberry Juice | ₨ 330.00 |
| Praline Ice Cream | ₨ 120.00 |
| Blueberry Ice Cream | ₨ 120.00 |
| Caramel Ice Cream | ₨ 120.00 |
| Chocolate Crunch Ice Cream | ₨ 120.00 |
| Chocolate Chip Ice Cream | ₨ 120.00 |
| Coffee Ice Cream | ₨ 120.00 |
| Juice Land Special Ice Cream | ₨ 350.00 |
Fresh Juices
| Menu | Prices |
| --- | --- |
| Apple Juice | ₨ 330.00 |
| Apricot Juice | ₨ 290.00 |
| Carrot Juice | ₨ 290.00 |
| Cheeku Juice | ₨ 330.00 |
| Cherry Juice | ₨ 380.00 |
| Falsa Juice | ₨ 330.00 |
| Fruit Punch Juice | ₨ 420.00 |
| Garma Juice | ₨ 290.00 |
| Grapefruit Juice | ₨ 330.00 |
| Grapes juice | ₨ 370.00 |
| Guava Juice | ₨ 250.00 |
| Jaaman Juice | ₨ 380.00 |
| Juice Land Special Juice | ₨ 390.00 |
| Kiwi Juice | ₨ 390.00 |
| Lychee Juice | ₨ 380.00 |
| Mixed Pomegranate Juice | ₨ 530.00 |
| Mango Juice | ₨ 290.00 |
| Mosambi Juice | ₨ 330.00 |
| Orange Juice | ₨ 330.00 |
| Peach Juice | ₨ 290.00 |
| Plum Juice | ₨ 380.00 |
| Pineapple Juice | ₨ 330.00 |
| Strawberry Juice | ₨ 330.00 |
| Water Melon Juice | ₨ 290.00 |
| White Pomegranate Juice | ₨ 530.00 |
JuiceLand Quality Shakes
| Menu | Price in PKR |
| --- | --- |
| Almonds Wonder Shake | ₨ 510.00 |
| Bounty Shake | ₨ 510.00 |
| Brownies Shake | ₨ 510.00 |
| Butter Cooksey | ₨ 510.00 |
| Cadbury Shake | ₨ 510.00 |
| Five Star Shake | ₨ 510.00 |
| Hot Fudge Shake | ₨ 510.00 |
| Juice Land Special Shake | ₨ 560.00 |
| Kit Kat Shake | ₨ 510.00 |
| Krazy Kat Shake | ₨ 510.00 |
| Maltesers Shake | ₨ 510.00 |
| Mars Shake | ₨ 510.00 |
| Mocca Shake | ₨ 510.00 |
| Oreo Shake | ₨ 510.00 |
| Perk Shake | ₨ 510.00 |
| Snickers Shake | ₨ 510.00 |
| Wafer Shake | ₨ 510.00 |
| Walnut Shake | ₨ 510.00 |
JuiceLand Milkshakes
| Menu | Price in PKR |
| --- | --- |
| Anjeer Shake | ₨ 420.00 |
| Apple Shake | ₨ 330.00 |
| Banana Candy Shake | ₨ 330.00 |
| Banana Shake | ₨ 290.00 |
| Banana Strawberry Shake | ₨ 330.00 |
| Cheeku Shake | ₨ 330.00 |
| Kaju Badam Shake | ₨ 520.00 |
| Khajoor Shake (plane) | ₨ 330.00 |
| Khoya Khajoor Shake | ₨ 390.00 |
| Kiwi Shake | ₨ 390.00 |
| Love Story Shake | ₨ 350.00 |
| Mango Shake | ₨ 330.00 |
| Papaya (Special Shake) | ₨ 350.00 |
| Peach Shake | ₨ 330.00 |
| Pineapple Shake | ₨ 330.00 |
| Strawberry Shake | ₨ 330.00 |
| Special Cocktail Shake | ₨ 460.00 |
| Super Mix Shake | ₨ 350.00 |
Ice Cream Shakes
| Menu | Price in PKR |
| --- | --- |
| Banana Split Dish | ₨ 410.00 |
| Blueberry Shake | ₨ 410.00 |
| Cake Laska Dish | ₨ 410.00 |
| Chocolate Shake | ₨ 410.00 |
| Cocktail Shake | ₨ 410.00 |
| Coconut Shake | ₨ 410.00 |
| Coffee Toffee | ₨ 410.00 |
| Fantasy Dish | ₨ 410.00 |
| Fruit Triffle Dish | ₨ 410.00 |
| Jungle Joy | ₨ 410.00 |
| Luby Duby | ₨ 410.00 |
| Mango Madness | ₨ 410.00 |
| Mango Shake | ₨ 410.00 |
| Pineapple Shake | ₨ 410.00 |
| Rainbow Shake | ₨ 410.00 |
| Rambo Dallied Dish | ₨ 410.00 |
| Strawberry Shake | ₨ 410.00 |
| Vanilla Dream | ₨ 410.00 |
| Vanilla Shake | ₨ 410.00 |
| Menu | Price in PKR |
| --- | --- |
| Blueberry Ice Cream | ₨ 120.00 |
| Caramel Ice Cream | ₨ 120.00 |
| Chocolate Chip Ice Cream | ₨ 120.00 |
| Chocolate Crunch Ice Cream | ₨ 120.00 |
| Chocolate Fudge Ice Cream | ₨ 120.00 |
| Coconut Ice Cream | ₨ 120.00 |
| Coffee Ice Cream | ₨ 120.00 |
| JuiceLand Special Ice Cream | ₨ 350.00 |
| Kulfa Ice Cream | ₨ 120.00 |
| Mango Ice Cream | ₨ 120.00 |
| Pistachio Ice Cream | ₨ 120.00 |
| Praline Ice Cream | ₨ 120.00 |
| Tutti Frutti Ice Cream | ₨ 120.00 |
| Strawberry Ice Cream | ₨ 120.00 |
| Vanilla Chip Ice Cream | ₨ 120.00 |
| Vanilla Chocolate Chip Ice Cream | ₨ 120.00 |
| Vanilla Crunch Ice Cream | ₨ 120.00 |
| Menu | Price in PKR |
| --- | --- |
| Black Coffee | ₨ 200.00 |
| Cold Cappuccino Coffee | ₨ 360.00 |
| Egg Soup | ₨ 240.00 |
| Espresso Coffee | ₨ 200.00 |
| Hot Cappuccino Coffee | ₨ 250.00 |
| Hot Chocolate | ₨ 250.00 |
| Ice Blended Coffee | ₨ 200.00 |
| Jasmine Tea | ₨ 60.00 |
| Kashmiri Chaye (Green Tea) | ₨ 140.00 |
| Milk Tea | ₨ 100.00 |
| Ovaltine Coffee | ₨ 200.00 |
| Soup | ₨ 200.00 |
JuiceLand Chaat And Salad
| Menu | Price in PKR |
| --- | --- |
| Chana Chaat | ₨ 170.00 |
| Chicken Apple Salad | ₨ 210.00 |
| Chicken Pasta Salad | ₨ 210.00 |
| Chicken Pineapple Salad | ₨ 210.00 |
| Chicken Russian Salad | ₨ 210.00 |
| Cream Chaat | ₨ 210.00 |
| Dahi Bhallay | ₨ 170.00 |
| Fruit Chaat | ₨ 210.00 |
| Fruit Ice Cream Chaat | ₨ 240.00 |
| Gol Gappay | ₨ 240.00 |
| Papri Chaat | ₨ 170.00 |
Fresh Juice Land Quality Coladas
| Menu | Price in PKR |
| --- | --- |
| Berry Colada | ₨ 360.00 |
| Coffee Colada | ₨ 390.00 |
| Cold Coffee | ₨ 410.00 |
| Cold Coffee Crunch Kulfa | ₨ 410.00 |
| Love Story | ₨ 350.00 |
| Mango Lassi | ₨ 350.00 |
| Pina Colada | ₨ 360.00 |
| Red Lady | ₨ 350.00 |
| Strawberry Colada | ₨ 360.00 |
| Strawberry Lassi | ₨ 350.00 |
Juiceland Gola and Faluda
| Menu | Price in PKR |
| --- | --- |
| Gola Faluda (Single) | ₨ 220.00 |
| Gola Faluda (Double) | ₨ 290.00 |
| Ice Cream Faluda | ₨ 350.00 |
| Ice Gola (Large) | ₨ 210.00 |
| Ice Gola (Regular) | ₨ 170.00 |
| Kulfi Faluda | ₨ 230.00 |
| Special Ice Gola | ₨ 280.00 |
| Special Kulfi Faluda | ₨ 330.00 |
Ice Blended Juices
| Menu | Price in PKR |
| --- | --- |
| Chop Apple Punch | ₨ 320.00 |
| Flout Drink | ₨ 320.00 |
| Marc Lepta Drink | ₨ 320.00 |
| Orange Mode | ₨ 320.00 |
| Pin Pine Plot | ₨ 320.00 |
| Pink Lemonade | ₨ 320.00 |
Juiceland Islamabad Locations
Branches
Address
Contact Number
Branch #1
Civic Center, Juiceland Phase – 4
Bahria Town, Islamabad
(051) 5732189, 0300-8169968
Branch #2
Express Way, Juiceland Phase – 7 Bahria Town, Islamabad
(051) 5172040, 0333-8169968
Branch #3
Juiceland F-10 Markaz Islamabad
(051) 2222958
Branch #4
City Center, I-8 Markaz, Islamabad
(051) 8911800
Branch #5
Jinnah supermarket, Juiceland F-7 Markaz, Islamabad
051-8898910
JuiceLand Contact & Timings Details
Tel: (051) 5732189
Facebook: @juicelandOfficial
Instagram: juiceland_official
Opening hours: 7 days per week 10:00 am – 03:00 am