Meat The Cheese Menu With Price list
Meat the Cheese. It is a modern cheese cellar lounge and a steakhouse. Here, you can enjoy an exquisite dining experience. The Meat the Cheese menu offers an exciting range of food items to tantalize your taste buds. It is the first eatery in Pakistan to introduce the renowned Raclette Cheese Wheel. If looking for a quick snack or a proper meal, this place never fails to deliver what you are craving!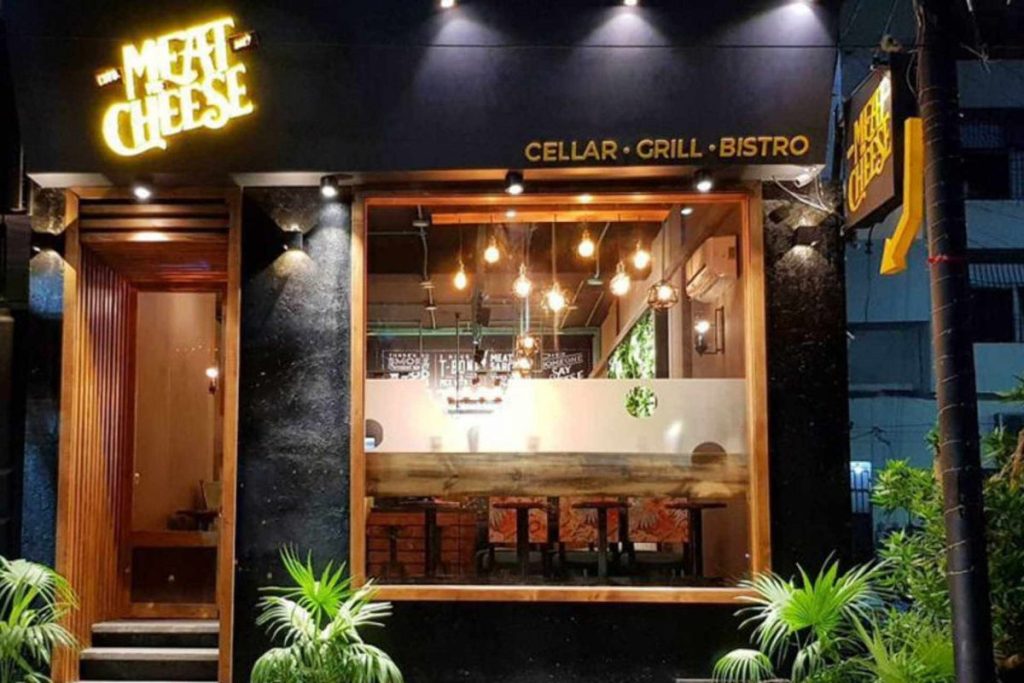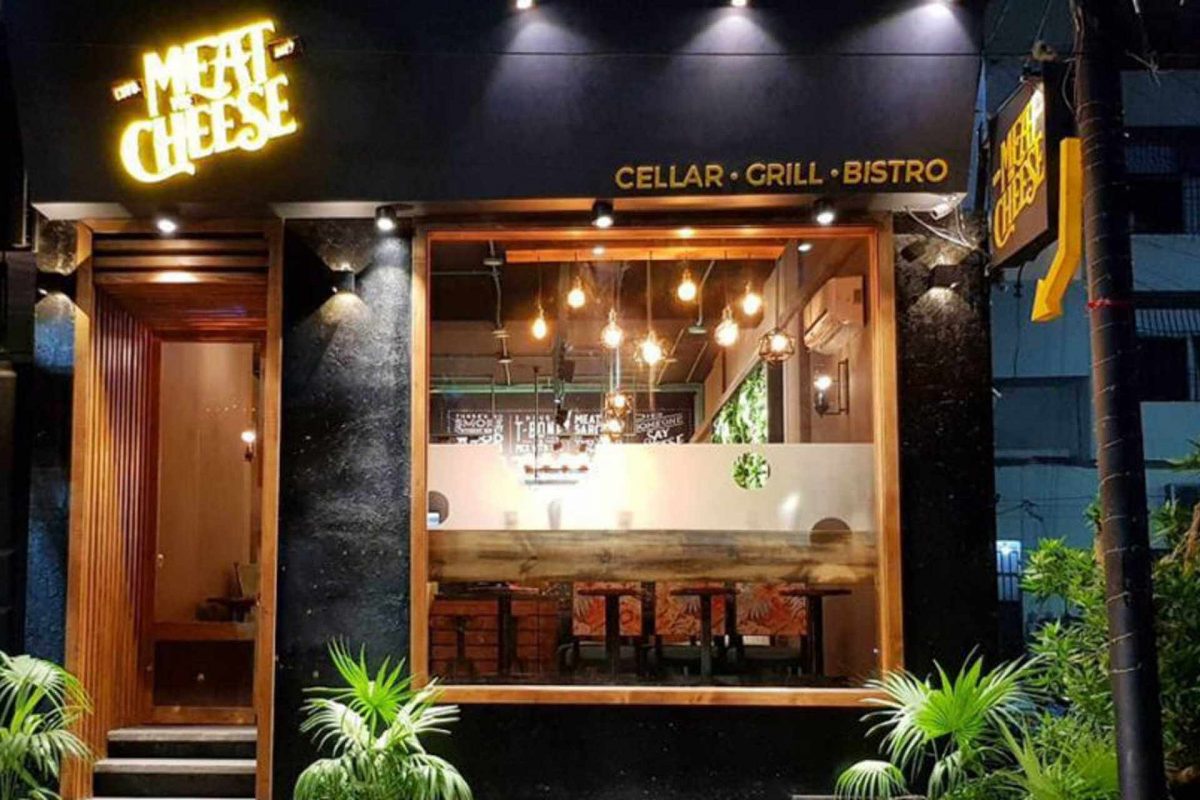 The menu has dishes topped with lots of Cheese which includes Starters, Pizza and Pasta, Fast food, Vegetarian, Fries, Stacks, Desserts, and Beverages.
Meat the Cheese Menu Karachi
Sandwiches, Wraps & Starter
| | |
| --- | --- |
| Items | Price |
| Feeling Sandwiched | Rs. 945 |
| Roast In A Toast | Rs. 895 |
| Fabulous Focaccia | Rs. 1085 |
| Face To Face Sandwich | Rs. 985 |
| | |
| Cheesy Chick On A Stick | Rs. 865 |
| Chilli Poppers | Rs. 715 |
| Fingers Crossed | Rs. 785 |
| Old Fella Mozzarella | Rs. 855 |
| Steak Bruschetta | Rs. 965 |
| Cream of Chicken | Rs. 595 |
| Cream of Mushroom | Rs. 595 |
Pastas, Puns & Pizzas
| | |
| --- | --- |
| Items | Price |
| Aunt Margherita | Rs. 1115 |
| Latino Jalapeno | Rs. 1195 |
| Lasagna On A Roll | Rs. 945 |
| Dreamy Mister Alfredo | Rs. 975 |
| Tongue Twister | Rs. 915 |
| Raise The Steaks | Rs. 975 |
| Mactastic | Rs. 935 |
| Pasta Roma | Rs. 915 |
| Thai Shy | Rs. 995 |
| Wood Fire Pizza (Pepperoni) | Rs. 1355 |
| Wood Fire Pizza (Classic) | Rs. 1215 |
The Burger Crowd
| | |
| --- | --- |
| Items | Price |
| The Patty Animal | Rs. 955 |
| Chipotle Bee-eff-eff | Rs. 915 |
| Bold As Barbeque | Rs. 945 |
| Crissp-Cross | Rs. 865 |
| The Pulled Beef Blitz | Rs. 985 |
| Meat The Classic | Rs. 915 |
Smoked Meat Collection
| | |
| --- | --- |
| Items | Price |
| Truly Lit Brisket | Rs. 2295 |
| Stick To The Ribs | Rs. 2295 |
| The Master Smoke | Rs. 5400 |
Cow Special
| | |
| --- | --- |
| Items | Price |
| Truly Lit Brisket | Rs. 2295 |
| Stick To The Ribs | Rs. 2295 |
| The Master Smoke | Rs. 5400 |
Birds of a Feather
| | |
| --- | --- |
| Items | Price |
| The Daily Grill | Rs. 1185 |
| Sing Me A Medley | Rs. 1155 |
| Bacon Me Crazy | Rs. 1265 |
| Deep Fried Pride | Rs. 1275 |
| Thunder Thai | Rs. 1185 |
| Super Chicken | Rs. 1195 |
Sweet Tooth Takers
| | |
| --- | --- |
| Items | Price |
| Lotus Cheese Cake | Rs. 780 |
| Dark Chocolate Tart | Rs. 750 |
| Newyork Cheese Cake | Rs. 745 |
| Good Old Fudge | Rs. 475 |
Raise a Toast With
| | |
| --- | --- |
| Items | Price |
| Iced Latte | Rs. 415 |
| Mocha Frappe | Rs. 415 |
| Brazilian Punch | Rs. 395 |
| Mojito | Rs. 395 |
| Mint Margarita | Rs. 385 |
| The Bullhead | Rs. 575 |
| Strawberry Smoothie | Rs. 415 |
| Sunshine | Rs. 395 |
| Iced Tea Lemon | Rs. 385 |
| Iced Tea Peach | Rs. 385 |
| Pina Colada | Rs. 395 |
| Oreo Shake | Rs. 415 |
| Red Bull | Rs. 495 |
| Cappuccino | Rs. 345 |
| Caffè Latte | Rs. 345 |
| Caffè Americano | Rs. 325 |
| Mineral Water Small | Rs. 99 |
| Mineral Water Large | Rs. 185 |
Soft Drinks
| | |
| --- | --- |
| tems | Price |
| Pepsi | Rs. 135 |
| Diet Pepsi | Rs. 135 |
| 7up | Rs. 135 |
| Mirinda | Rs. 135 |
| Mountain Dew | Rs. 135 |
Meat the Cheese Menu Lahore
Pizzas, Pastas & Puns
| | |
| --- | --- |
| Items | Price |
| Aunt Margherita | Rs. 1095 |
| Latino Jalapeno | Rs. 1195 |
| Lasagna On A Roll | Rs. 995 |
| Pasta La Vista | Rs. 985 |
| Dreamy Mister Alfredo | Rs. 975 |
| Tongue Twister | Rs. 965 |
| Mactastic | Rs. 965 |
| Pasta Roma | Rs. 915 |
| Thai Shy | Rs. 995 |
| Wood Fire Pizza (Pepperoni) | Rs. 1355 |
| Wood Fire Pizza (Classic) | Rs. 1215 |
Wood-Smoked Meat Collection
| | |
| --- | --- |
| Items | Price |
| Truly Lit Brisket | Rs. 2295 |
| Stick To The Ribs | Rs. 2295 |
| The Master Smoke | Rs. 5400 |
Starters
| | |
| --- | --- |
| Items | Price |
| Fume Tacos | Rs. 965 |
| Fingers Crossed | Rs. 785 |
| Cheesy Chick On A Stick | Rs. 895 |
| Chilli Poppers | Rs. 725 |
| Old Fella Mozzarella | Rs. 835 |
| Steak Bruschetta | Rs. 965 |
| Cream of Chicken | Rs. 575 |
| Cream of Mushroom | Rs. 575 |
Fries with a Prize
| | |
| --- | --- |
| Items | Price |
| Cheesy Mushroom Fries | Rs. 815 |
| Jalapeno Chicken Fries | Rs. 825 |
| Nacho Fries | Rs. 815 |
Birds of a Feather
| | |
| --- | --- |
| Items | Price |
| The Daily Grill | Rs. 1215 |
| Sing Me A Medley | Rs. 1195 |
| Bacon Me Crazy | Rs. 1295 |
| Deep Fried Pride | Rs. 1295 |
| Thunder Thai | Rs. 1295 |
| Super Chicken | Rs. 1195 |
Burger Crowd
| | |
| --- | --- |
| Items | Price |
| The Patty Animal | Rs. 975 |
| Chipotle Bee-eff-eff | Rs. 915 |
| Bold As Barbeque | Rs. 955 |
| Crissp-Cross | Rs. 895 |
| The Pulled Beef Blitz | Rs. 965 |
| Meat The Classic | Rs. 915 |
Sandwiches & Wraps
| | |
| --- | --- |
| Items | Price |
| Feeling Sandwiched | Rs. 945 |
| Roast In A Toast | Rs. 895 |
| Fabulous Focaccia | Rs. 1085 |
| Face To Face Sandwich | Rs. 985 |
Raise a Toast
| | |
| --- | --- |
| Items | Price |
| Iced Latte | Rs. 395 |
| Mocha Frappe | Rs. 395 |
| Brazilian Punch | Rs. 365 |
| Mojito | Rs. 365 |
| Mint Margarita | Rs. 365 |
| The Bullhead | Rs. 575 |
| Strawberry Smoothie | Rs. 415 |
| Iced Tea Lemon | Rs. 395 |
| Iced Tea Peach | Rs. 395 |
| Pina Colada | Rs. 395 |
| Oreo Shake | Rs. 415 |
| Red Bull | Rs. 495 |
| Crème Coffee | Rs. 385 |
| Cappuccino | Rs. 325 |
| Caffè Latte | Rs. 325 |
| Caffè Americano | Rs. 325 |
| Mineral Water Small | Rs. 99 |
| Mineral Water Large | Rs. 185 |
Soft Drinks
| | |
| --- | --- |
| Items | Price |
| Pepsi | Rs. 135 |
| Diet Pepsi | Rs. 135 |
| 7up | Rs. 135 |
| Mirinda | Rs. 135 |
| Mountain Dew | Rs. 135 |
Meat The Cheese Branches in Karachi
| | |
| --- | --- |
| Branch Name | Address |
| Khayaban-e-Bukhari Karachi Branch | 7, 32-C Khayaban-e-Bukhari, Bukhari Commercial Area Phase 6, DHA, Karachi |
| Tipu Sultan Road Karachi Branch | Tipu Sultan Rd, Karachi Memon Co-operative Housing Society, PECHS, Karachi |
Meat The Cheese Branches in Lahore
| | |
| --- | --- |
| Branch Name | Address |
| Noor Jehan Road Lahore Branch | C-3 Gulberg III Noor Jehan Road, Near Hussain Chowk, Lahore |