Koffee Net Menu Pakistan with Prices 2023
Koffee Net menu is a modern contemporary cafe located in the capital city Islamabad. Koffee Net menu offers delectable food products to the customers. They have so many options available for your food cravings such as Starters, Soups and savory Salads. They have risen to fame among food lovers for their preference of using only the freshest ingredients to make their tasty food items. Despite all the hard work and effort they put in while preparing their signature offerings, they have kept the prices very fair.
Koffee Net cafe is one of its kind in the city where you can celebrate your dining peacefully. It offers you a soothing and cozy atmosphere along with superb customer service. The crew is fantastic, humble and friendly with the visitors.
Koffee Net Menu Best Items:
The Koffee Net restaurant is growing gradually but continuously with each day. The owners keep introducing new items in the menu but we will only guide you through the Best Items on the Koffee Net menu Pakistan:
Starters:
What could make your day more fascinating and exciting than fabulous Koffee Net Starters. These starters will make your tiredness go away with their titillating taste. You will surely appreciate their efforts when you take a bite from the signature Buffalo Wings, Stuffed Chicken Strips and Nachos. There are so many other starters which can easily make your mouth water with their odor and eye-catching look. Just trust us and try the Fried Calamari from the Koffee Net Starters menu. It will give your taste buds an authentic calamari taste at the mere price of 899 PKR.
Soups:
Soup is everyone's favorite food in the winters as it makes you feel warm and fresh. Koffee Net Soups are incomparable with any other soups in the country. These soups are made with a special recipe which has never failed to amaze the food lovers. If by any chance you haven't visited a Koffee Net restaurant yet and are planning to go there for the first time, then you
should insist on Chicken Corn and Koffee Net Special Soup for your dining. On the other hand, Thai food lovers can order awesome Thai Soup at the price of 449 PKR only.
Salads:
Koffee Net Salads are not only scrumptious to taste but also provide sufficient nutrients to your body which keep you healthy and fit. All the customers prefer ordering Koffee Net Special Salad for their dining. This salad is very delicious and unique. Unique in a way that you will not get this salad anywhere else. Koffee Net Special Salad contains so many fresh ingredients such as thinly sliced smoked beef, lettuce, jalapenos, black olives tossed with Homemade dressing. Moreover, you can also ask for the best seller Classic Chicken Caesar Salad which will definitely force you to visit the cafe again.
Koffee Net Menu With Price List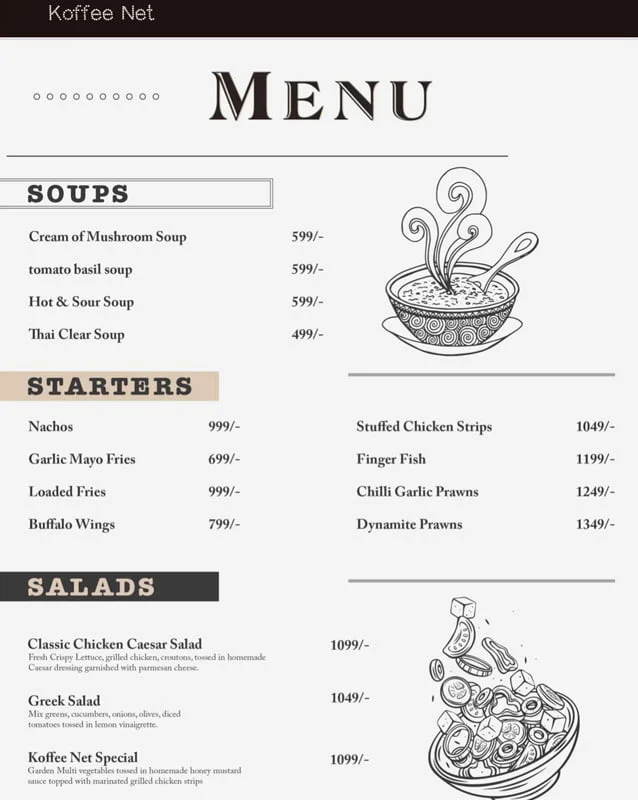 STARTERS
Nachos Rs. 599
Garlic Mayo Fries Rs. 449
Steak Chilli Fries Rs. 599
Buffalo Wings Rs. 599
Stuffed Chicken Strips Rs. 599
Finger Fish Rs. 749
Chilli Garlic Prawns Rs. 999
Dynamite Prawns New Rs. 1199
Fried Calamari Rs. 899
Chicken Bites Rs. 799
SOUPS
Cream of Mushroom Rs.499
Seafood Chowder Rs. 599
Special Soup Rs.629
Hot & Sour Rs.449
Chicken Corn Rs.449
Thai Soup Rs. 449
SALADS
Classic Chicken Caesar Salad Rs.849
Mix Greens, grilled chicken, croutons, tossed in homemade Caesar dressing
Koffee Net Special Rs.949
Thinly sliced smoked beef, lettuce, jalapenos, black olives tossed with Homemade dressing
Greek Salad Rs.849
Mix greens, sliced cucumbers, onions, olives, diced tomatoes tossed in lemon vinaigrette
South West Caesar Salad Rs.849
Mix Green Grilled chicken with southwest spice top with tortilla chips
Cajun Chicken Salad Rs.899 
Mix Green Salad Top with Cajun Fried Chicken
Koffee Net Contact And Address:
Address: 4th floor Union Gold Mall, College Rd, Islamabad, 44000
Here is the Coffee Net Contact Number:
0304 5546666
https://www.facebook.com/K0FFEENET/