IHOP Restaurant Karachi Menu & Updated Prices
IHOP, or International House of Pancakes, is a popular American restaurant chain that is known for its pancakes, waffles, and other breakfast dishes. The Karachi branch of IHOP is located in the heart of the city, and it is a popular spot for both locals and tourists.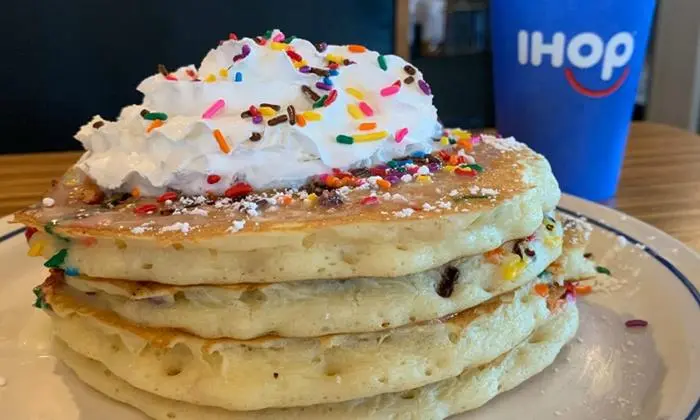 The menu at IHOP Karachi features a wide variety of breakfast, lunch, and dinner options. In addition to pancakes and waffles, the menu also includes a variety of omelettes, burgers, sandwiches, and salads. There are also a number of vegetarian and gluten-free options available.
Springs Cafe Karachi Menu & Prices
The atmosphere at IHOP Karachi is casual and relaxed. The restaurant is decorated in a bright and airy style, and there is plenty of seating both indoors and outdoors. The service at IHOP is friendly and efficient, and the food is always cooked to order.
IHOP Karachi Menu with Price
If you are looking for a delicious and affordable meal in Karachi, IHOP is a great option. The restaurant has something for everyone, and the service is always excellent.
World Famous Pancakes
| Menu Item | Price |
| --- | --- |
| Chocolate New York Cheesecake Pancakes | Rs. 799 |
| New York Cheesecake Pancakes | Rs. 799 |
| Cupcake Pancake | Rs. 599 |
| Chocolate Chip Pancakes | Rs. 649 |
| Cinn A Stac Pancakes | Rs. 749 |
| Oreo My Goodness Pancakes | Rs. 599 |
| Create Your Own Pancake Combo | Rs. 1,999 |
| Two for Two | Rs. 999 |
| Original Buttermilk Pancakes | Rs. 499 |
| Strawberry Banana Pancakes | Rs. 599 |
| Quick 2 Eggs Breakfast | Rs. 1,249 |
| Ham & Swiss Hashbrown Stack | Rs. 899 |
| Ham & Egg Melt | Rs. 999 |
| Original Chicken Sandwich | Rs. 1,199 |
| Belgian Waffle | Rs. 749 |
| Mushroom Chicken | Rs. 1,249 |
| Cappuccino | Rs. 499 |
| Café Latte | Rs. 499 |
IHOP Breakfast Combo
| Menu Item | Price |
| --- | --- |
| Split Decision Breakfast | Rs. 1,699 |
| Breakfast Sampler | Rs. 1,999 |
| Pakistani Sampler | from Rs. 1,399 |
IHOP Creations
| Menu Item | Price |
| --- | --- |
| IHOP Signature Pancake Sliders | Rs. 999 |
| Spinach & Mushroom Hashbrown Stack | Rs. 899 |
| Bacon & Cheddar Hashbrown Stack | Rs. 899 |
| Waffle Stack | Rs. 1,399 |
Omelettes & Omelittles
| Menu Item | Price |
| --- | --- |
| Bacon Temptation Omelette | from Rs. 1,449 |
| Cheesy Western | from Rs. 1,399 |
| Chicken Fajita Omelette/Omelittle | from Rs. 1,299 |
| Garden Omelette/Omelittle | from Rs. 1,299 |
| Spinach Mushroom Omelette/Omelittle | from Rs. 1,299 |
| Big Steak Omelette/Omelittle | from Rs. 1,599 |
| Cheeseburger Omelette/Omelittle | from Rs. 1,499 |
| Country Omelette/Omelittle | from Rs. 1,399 |
| Tikka Omelette/Omelittle | from Rs. 1,349 |
| Chicken Kafta Omelette/Omelittle | from Rs. 1,349 |
IHOP Handhelds
| Menu Item | Price |
| --- | --- |
| Fiesta Chicken Wrap | Rs. 1,299 |
| Spicy Chicken Sandwich | Rs. 1,249 |
| Classic Burger | Rs. 1,299 |
| Double BLT | Rs. 1,099 |
| Philly Cheese Steak | Rs. 1,499 |
| Chicken Clubhouse Super Stacker | Rs. 1,299 |
| Mushroom Swiss Burger | Rs. 1,499 |
| Cowboy Burger | Rs. 1,499 |
| Classic Burger With Bacon | Rs. 1,499 |
| Mega Monster | Rs. 1,599 |
| Waffle Burger | Rs. 1,349 |
Griddle Faves
| Menu Item | Price |
| --- | --- |
| Original French Toast | from Rs. 549 |
| Strawberry Cream Cheese Crepe | Rs. 699 |
| Strawberry Banana French Toast | from Rs. 749 |
| Banana Crepe with Nutella | Rs. 749 |
| Spicy Chicken & Waffle | Rs. 849 |
| Chicken & Waffles | Rs. 899 |
| Chicken Florentine Crepe | Rs. 1,249 |
| Chicken With Bacon & Cheddar Crepe | Rs. 1,099 |
| Strawberry Nutella Waffle | from Rs. 999 |
| Create Your Own Crepe Combo | from Rs. 1,699 |
The Entrée
| Menu Item | Price |
| --- | --- |
| Blackened Fish with Spicy Asian Sauce | Rs. 1,299 |
| Moroccan Chicken | Rs. 1,249 |
| Rocket Chili & Lemon Pasta | Rs. 1,249 |
| Fettuccini Alfredo | Rs. 1,199 |
| Italian Chicken Pasta | Rs. 1,199 |
Appetizers
| Menu Item | Price |
| --- | --- |
| Appetizer Sampler | Rs. 1,199 |
| Chicken Quesadilla | Rs. 899 |
| Crispy Chicken Strips & Fries | from Rs. 699 |
| Chicken Wings | from Rs. 649 |
| Monster Mozzarella Sticks | Rs. 749 |
| Volcano Shrimps | Rs. 949 |
Salad
| Menu Item | Price |
| --- | --- |
| Crispy Chicken Salad | Rs. 899 |
| House Salad | Rs. 799 |
Desserts & Kids Menu
| Menu Item | Price |
| --- | --- |
| Ice Cream Sundae Chocolate | Rs. 599 |
| Ice Cream Sundae Strawberry | Rs. 599 |
| Create a Face Pancake | Rs. 499 |
| Funny Face Pancake | Rs. 499 |
| Affogato | Rs. 499 |
| Funny Face Pancake Combo | Rs. 599 |
| Grilled Cheese Sandwich | Rs. 599 |
| Jr. Chicken & Waffle | Rs. 499 |
| Silver 5 | Rs. 599 |
| Jr. Cupcake Pancake | Rs. 599 |
| Mini Pancakes | Rs. 529 |
| Waffle Pops | Rs. 599 |
| Banana Crepe Nutella | from Rs. 749 |
Hot & Iced Coffee
| Menu Item | Price |
| --- | --- |
| Mocha Latte | Rs. 599 |
| Hot Americano | Rs. 399 |
| Espresso | from Rs. 299 |
| Caramel Macchiato | from Rs. 549 |
| Nutella Iced Coffee | Rs. 649 |
| Original Iced Coffee | Rs. 479 |
| Espresso Macchiato | Rs. 349 |
| Americano | Rs. 399 |
| Vanilla Iced Coffee | Rs. 499 |
Tea
| Menu Item | Price |
| --- | --- |
| Passion Fruit Iced Tea | Rs. 499 |
| Lemon Iced Tea | Rs. 499 |
| Hot Tea | Rs. 249 |
| Home Made Iced Tea | Rs. 499 |
| Peach Iced Tea | Rs. 499 |
Milkshakes
| Menu Item | Price |
| --- | --- |
| Vanilla Milkshake | Rs. 699 |
| Nutella Milkshake | Rs. 699 |
| Strawberry Milkshake | Rs. 699 |
| Hershey's Chocolate Milkshake | Rs. 699 |
| Oreo Milkshake | Rs. 699 |
| Seasonal Fruit Shake | Rs. 649 |
| Caramel Milkshake | Rs. 699 |
Splashes
| Menu Item | Price |
| --- | --- |
| Splashberry | Rs. 649 |
| Tropical Island Twist | Rs. 549 |
| Mojito – Blueberry | Rs. 549 |
| Mojito – Passion Fruit | Rs. 549 |
| Mojito – Mango | Rs. 549 |
| Margarita – Blueberry | Rs. 549 |
| Margarita – Passion Fruit | Rs. 549 |
| Margarita – Mango | Rs. 549 |
Soda Floats
| Menu Item | Price |
| --- | --- |
| Soda Floats | Rs. 349 |
Miscellaneous Beverages
| Menu Item | Price |
| --- | --- |
| Lemonade | Rs. 349 |
| Lemon & Mint | Rs. 429 |
| Chocolate Milk | from Rs. 399 |
| Apple Juice | from Rs. 249 |
| Hot Chocolate | Rs. 499 |
| Coca-Cola Can – 250 ml | Rs. 199 |
| Coca-Cola Zero Can – 250 ml | Rs. 199 |
| Sprite Can – 250 ml | Rs. 199 |
| Sprite Zero Can – 250 ml | Rs. 199 |
| Fanta Can – 250 ml | Rs. 199 |
| Dasani Water – 500 ml | Rs. 199 |
| Dasani Water – 1.5 Litre | Rs. 249 |
IHOP Restaurant Contact Number and Address Information
Phone: 0304 1837454
Address: 39C IHOP Restaurant, Main Khayaban-e-Shahbaz, Karachi, 
IHOPE Restaurant Social Media Accounts
Facebook: https://www.facebook.com/IHOPKarachiOfficial/
Instagram: https://www.instagram.com/ihop_karachi/