Best Restaurants in Rawalpindi
Welcome to a gastronomic extravaganza as we embark on a delightful journey through Rawalpindi's vibrant food scene, unveiling the ten best restaurants that have captured the hearts and palates of both locals and visitors. Rawalpindi, a city steeped in history and brimming with cultural richness, is a true treasure trove of culinary wonders. From authentic Pakistani delicacies to tantalizing international flavors, these exceptional dining establishments offer an unparalleled culinary experience that will leave you yearning for more.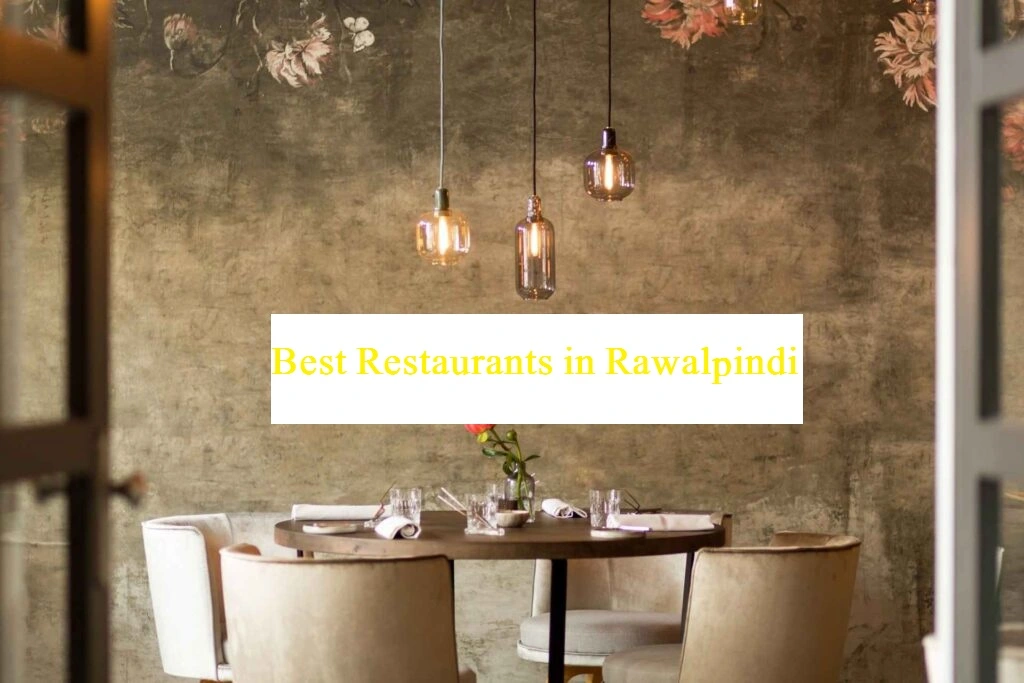 Prepare to immerse yourself in a world of tantalizing spices, succulent meats, and aromatic herbs as you venture into the culinary delights that Rawalpindi has to offer. Whether you are a connoisseur of traditional Pakistani dishes, a lover of international cuisine, or an adventurous foodie in search of new gastronomic experiences, these top-rated restaurants are poised to exceed your expectations.
List of Best Restaurants in Rawalpindi with Service Options
Embark on a culinary adventure through Rawalpindi's vibrant streets, uncovering hidden gems that embody the city's lively food culture. Indulge in delightful flavors, ignite your taste buds, and create lasting memories that will linger beyond the final bite. Join us for an unforgettable gastronomic experience.
1. Monal Rawalpindi
Monal Rawalpindi offers a delightful dining experience with its exquisite food, elegant ambiance, and attentive staff, making it one of the top restaurants in Rawalpindi. The Pakistani Platter stands out with its flavorful assortment of traditional delights, particularly the mouthwatering Peshawari namkeen karahi. The knowledgeable and hospitable staff, especially the manager, ensure a smooth and enjoyable dining experience. Although the prices may be higher, the exceptional food quality and attentive service make it a worthwhile choice for food enthusiasts seeking a memorable culinary adventure. The cooperative staff and valet parking add convenience to the overall experience. Monal Rawalpindi is highly recommended for its delectable cuisine and pleasant dining atmosphere.
Service Options: Dine-in, Takeaway, Delivery
Address: Murree Road, Saddar, Rawalpindi.
2. Mei Kong Restaurant
Mei Kong is a paradise for Chinese cuisine enthusiasts. This restaurant brings the true flavors of China to Rawalpindi, presenting a diverse array of dishes that highlight the vibrant culinary traditions of the country. From delectable stir-fries and dim sum to aromatic soups and sizzling hotpots, Mei Kong invites you on an extraordinary gastronomic expedition through the tastes of the Far East.
Top 10 Chinese Restaurants in Islamabad
Service Options: Dine-in, Takeaway, Delivery
Address: 32 Haider Rd, Saddar, Rawalpindi.
3. Aseel Shinwari Restaurant
Aseel Shinwari Restaurant is renowned as one of the finest dining establishments in Rawalpindi, especially for meat lovers. Specializing in Pashtun cuisine, this restaurant offers a delectable selection of grilled meats, including succulent kebabs and tender steaks. The use of aromatic spices and traditional cooking techniques creates a unique and flavorful dining experience that transports guests to the heart of the Pashtun region.
Service options: Dine-in, Takeaway
Address: Kashmir Rd, Saddar, Rawalpindi.
4. Savour Foods
Savour Foods is an iconic institution in Rawalpindi, known for its mouthwatering Pakistani and Mughlai cuisine. From famous biryanis and karahis to delightful desserts, each dish is prepared with love and meticulous attention to detail, ensuring a truly satisfying dining experience.
Service options: Dine-in, Kerbside pickup, Delivery
Address: Gorden College Rd, Naya Mohalla, Rawalpindi.
5. Laham Lounge Restaurant
Laham Lounge Restaurant is a hidden gem that caters to meat enthusiasts with its Middle Eastern cuisine. With a focus on grilled meats and traditional Arabic flavors, this restaurant offers a unique and delightful dining experience. Guests can indulge in succulent shawarmas, flavorful kebabs, and hearty platters that showcase the rich culinary heritage of the Middle East.
Service options: Dine-in, Takeaway, Delivery
Address: Bilal Shaheed Chowk, Chaklala Scheme 3 Chaklala Housing Scheme 3, Rawalpindi.
6. Ox & Grill Steak House
For the perfect steak, Ox & Grill Steak House is the place to be. This restaurant specializes in premium-quality steaks, cooked to perfection and served with a variety of mouthwatering sides. From tender filet mignon to juicy ribeye, the steaks at Ox & Grill are a carnivorous delight that will satisfy even the most discerning palate.
Service options: Dine-in, Takeaway, Delivery
Address: First Floor, Rafiq Sehgal Street, Murree Rd, Rawalpindi.
7. Fresco Restaurant
Fresco Restaurant offers a fusion of Italian and continental flavors in a chic and contemporary setting. With a menu featuring handmade pasta, wood-fired pizzas, fresh seafood, and delectable desserts, Fresco is a haven for foodies who appreciate a touch of sophistication in their dining experience.
Service options: Dine-in, Takeaway, Delivery
Address: 46000, Saddar, Rawalpindi.
8. Nando's Restaurant Rawalpindi
Nando's, a globally recognized restaurant chain, has made its mark in Rawalpindi with its unique Afro-Portuguese flavors. Known for its flame-grilled peri-peri chicken, Nando's offers a mouthwatering menu that caters to both spice enthusiasts and milder palates. Their secret lies in their signature peri-peri sauce, which adds a fiery kick to their succulent chicken. From tender chicken breasts to juicy wings, Nando's provides a tantalizing experience for those who appreciate the perfect balance of heat and flavor.
Complete Nandos Menu Pakistan with Prices
Service options: Dine-in, Takeaway, Delivery
Address: Plot No. 10 Theme Park Avenue, Phase 7 Bahria Town, Rawalpindi.
9. Tai-Pan
Tai-Pan is a haven for lovers of authentic Chinese cuisine in Rawalpindi. With its elegant ambiance and extensive menu, Tai-Pan offers a culinary journey through the flavors of China. From traditional dim sum and aromatic soups to flavorful stir-fries and delectable seafood dishes, every bite at Tai-Pan is a celebration of Chinese culinary traditions. The skilled chefs at Tai-Pan expertly balance flavors and textures, ensuring that each dish is a harmonious blend of savory, sweet, and umami notes. Whether you crave classic favorites or regional specialties, Tai-Pan promises a memorable dining experience.
Service options: Dine-in, Takeaway
Address: Rawalpindi, Punjab 46000
10. Bull Steak House
Bull Steak House is a must-visit for carnivorous delights in Rawalpindi. As the name suggests, this restaurant specializes in serving top-quality steaks that are sure to satisfy even the most discerning steak aficionados. From tender and juicy ribeye to flavorful T-bone cuts, Bull Steak House takes pride in using premium-quality meat and grilling it to perfection. With a variety of steak options and delectable sides and sauces, dining at Bull Steak House is an indulgent experience for meat lovers.
Service options: Dine-in, Takeaway, Delivery
Address: Extreme Carting, Main Corniche Road, Bahria Town Phase IV Phase 4 Bahria Town, Rawalpindi.
Gauchos Steakhouse Menu Pakistan with Prices