Delizia Cake Menu Pakistan with Prices 2023
Delizia Cake menu is an European bakery store located in Karachi, serving its mellow delights to the locals. Delizia Cake menu has many sweetish offerings for the customers like Cakes, Brownies and Desserts. They serve many flavors of cakes to make your celebrations much more memorable. The ingredients that they use in the baking process are of the best quality. Besides all the efforts they put in, they have, somehow, managed to keep the prices very reasonable.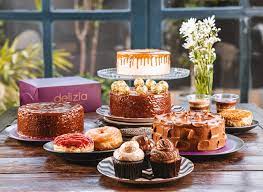 Delizia Bakery was founded in 2014 to please the sweet lovers across the city of Karachi. After getting positive response and admiration from the visitors, the owners have expanded the bakery in many locations.
Delizia Cake Menu Best Items:
If you are visiting them for the first time and don't know what to order then worry not! We will mention the best items from the Delizia Cake menu Pakistan.
Delizia Chocolate Heaven:
Delizia Cake menu has its best seller Delizia Chocolate Heaven cake ready for your order. First of all, its design is so lovely and its taste is heavenly just like its name. This exceptional cake will simply melt in your mouth because it is made with the light chocolate icing which is further covered with a double layer of soft chocolate. Whether you have a birthday party or a promotional celebration event, this cake perfectly fits in your needs. Moreover, it is not that expensive either, as you can get it at the price of 1400 P.K.R only.
Delizia Dairy Milk Cake:
Delizia Dairy Milk Cake is becoming a fan favorite with its availability in almost all the branches of the bakery. They use the best raw ingredients to make this marvelously good cake. If we put it in simple words then this cake is nothing but the perfection of light dairy milk chocolate in every bite! You won't feel the quality and taste of dairy anywhere else except here at the Delizia Bakery. You can also get this cake customized according to your desire. The regular price starts from Rs. 1,550 which can go up depending on the design you want on the cake's crust.
Delizia Lotus Cake:
Get your taste buds ready to experience the authentic European taste of the savory Delizia
Lotus Cake. It is prepared with the amazing lotus bi-scoff spread with cream cheese on a fluffy vanilla. Every bite will make you crave for more and more. This cake is one of the expensive products at the bakery shop, however, its quality and taste doesn't allow you to worry about the money. Lotus Cake is very famous among customers of all ages as it offers you a perfectly balanced sugary taste.
Delizia Cake Rate List Karachi
Here are the current prices of Delizia Special Cakes for Birthday and Anniversary
| | |
| --- | --- |
| Delizia Cake Menu | Price |
| Salted Caramel | Starting From Rs. 1850 |
| Belgian Malt | Starting From Rs. 1750 |
| Chocolate Heaven | Starting From Rs. 1400 |
| Chocolate Mousse | Starting From Rs. 1200 |
| Coffee Cake | Starting From Rs. 1400 |
| Dairy Milk | Starting From Rs. 1550 |
| Ferrero Classic | Starting From Rs. 1850 |
| Ferrero Rocher | Starting From Rs. 2400 |
| German Fudge | Starting From Rs. 1300 |
| Honey Cake | Starting From Rs. 1650 |
| KitKat | Starting From Rs. 1700 |
| Nutella | Starting From Rs. 1700 |
| Raffaello | Starting From Rs. 2250 |
| Red Velvet | Starting From Rs. 1650 |
| Lotus cake | Starting From Rs. 1950 |
| Chocolate Decadence | Starting From Rs. 1400 |
| Milky Malt | Starting From Rs. 1200 |
| Galaxy Chocolate | Starting From Rs. 1550 |
Delizia North Nazimabad Town Karachi Branch
Address: Sharah-e-Humayun, Block F, North Nazimabad Town, Karachi
Contact: +923454775500
Delizia Bahadurabad Karachi Branch
Address: 164, Bahadurabad Centre, Main Bahadurabad, Next to Mr.Burger, Karachi
Contact: +923454775500
Delizia Khayaban-e-Roomi Karachi Branch
Address: Shop 29, Hashoo Terrace, Block 5, Khayaban-e-Roomi Block 5 Clifton, Karachi
Contact: +923454775500
Delizia Garden East Karachi Branch
Address: Garden East, Nishtar Road, Karachi – Pakistan
https://www.facebook.com/DeliziaPK/