Nestle Milk Products Prices in Pakistan
Nestle is a Swiss multinational food and drink company that has been operating in Pakistan for over 50 years. The company offers a wide range of milk products, including milk powder, condensed milk, evaporated milk, and yogurt.
The prices of Nestle milk products have been rising in recent years due to a number of factors, including the depreciation of the Pakistani rupee and the increase in the cost of raw materials. However, Nestle has also been increasing the prices of its products in order to offset the rising costs.
The high prices of Nestle milk products have made them unaffordable for many people in Pakistan. This has led to a rise in the popularity of locally-produced milk products, which are often much cheaper.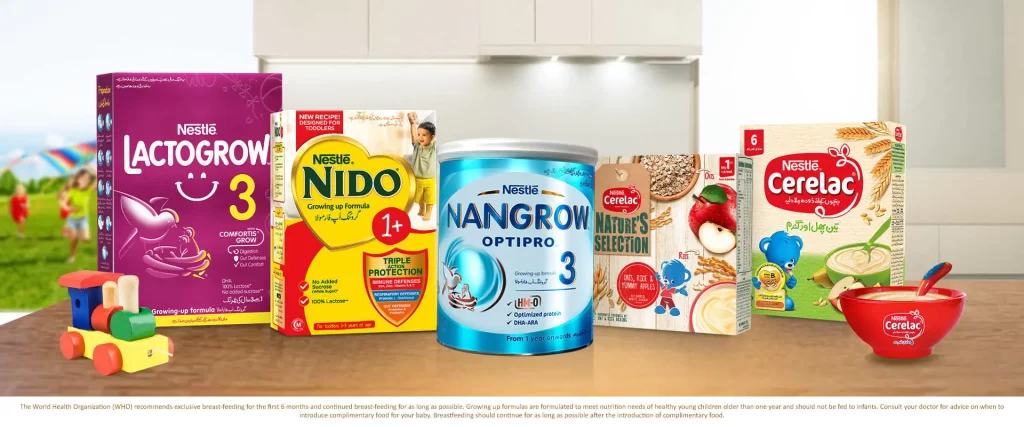 Despite the high prices, Nestle milk products remain popular in Pakistan. This is because the company has a strong brand reputation and its products are known for their quality. Nestle also invests heavily in marketing and advertising, which helps to keep its products in the minds of consumers.
Nestle Milk Products and Updated Prices
| Item Name | Price |
| --- | --- |
| Nestle Milkpak Full Cream Milk 1000ml | Rs. 3,240 |
| Nestle Milkpak Full Cream Milk 250ml | Rs. 1,890 |
| Nestle Milk Pak Active Milk Pack 12 x 1litre | Rs. 3,360 |
| NESTLE MILK PAK 1000ML 12PCS IN PACK | Rs. 3,240 |
| NESTLE MILK PAK 250ML 27PCS IN PACK | Rs. 2,160 |
| Nestle Milk Pack 12 x 1 Litre | Rs. 3,250 |
| Nestle Nesvita 1000ml 12pcs in Pack | Rs. 3,480 |
| NESTLE FRUTA VITALS PEACH 1000ML 12PCS IN PACK | Rs. 3,600 |
| NESTLE FRUTA VITALS PROMOGRANTE 1000ML 12PCS IN PACK | Rs. 4,800 |
| NESTLE FRUTA VITALS ORANGE 1000ML 12PCS IN PACK | Rs. 3,960 |
| NESTLE – Nan 2 600Gm Soft Pack | Rs. 2,250 |
| NESTLE – Nan 3 600Gm Soft Pack | Rs. 2,250 |
| NESTLE – Nan 2 300Gm Soft Pack | Rs. 1,200 |
| NESTLE – Nan 1 New Pack 600Gm | Rs. 2,250 |
| Nestle Nido Fortified 390g Pouch | Rs. 780 |
| Nestle Nido Powder Milk 1+ Box 400g | Rs. 908 |
| Nestle Nido Powder Milk 3+ Box 400g | Rs. 1,557 |
| Nestle Nesvita Milk Litre Pack | Rs. 3,600 |
| NESTLE – Lactogen 2 Powder Milk Box 400g | Rs. 1,200 |
| Nestle nido 1+ 1.8 kg tin | Rs. 6,800 |
| Nestle Nido Fortigrow, 650g, Pouch | Rs. 1,310 |
| NESTLE – Lactogen 1 Powder Milk Box 400g | Rs. 1,200 |
| NESTLE – Lactogen 2 Powder Milk Box 200g | Rs. 600 |
| NESTLE – nido 1+ 375gm | Rs. 980 |
| NESTLE – nido 1+ 900gm | Rs. 2,010 |
| Nestle Nido 1+ 400g Box | Rs. 697 |
| Nestle Nido 3+ 400g Box | Rs. 800 |
| NESTLE – nan 2 powder 900 gm tin | Rs. 6,500 |
| NESTLE – Nan 1 300Gm Soft Pack | Rs. 1,200 |
| Nestle Nido Powder Milk 1-3 Years 1kg | Rs. 1,672 |
| Nestle Lactogen 3 Powder Milk Box 400 g | Rs. 975 |
| Nestle Nido 1+ 1000gm | Rs. 2,050 |
| NESTLE – Nido Bunyad 900Gm | Rs. 2,010 |
| Nestle Nesvita 200 ml (Pack of 24) | Rs. 2,150 |
| Nestle Nido Bunyad 600Gm | Rs. 850 |
| NESTLE – Nan 2 powder 400 gm tin | Rs. 2,800 |
| NESTLE – Nido school age nutrition growth 900Gm | Rs. 1,795 |
| Nestle Lactogrow 3 200g | Rs. 565 |
| NESTLE – Lactogen 2 Dha Powder Milk Box 200g | Rs. 600 |
| Nestle Resource Optimum 400g | Rs. 5,100 |
Menu Foods Product List and Prices