Pizza Club Sargodha Menu & Deals Prices
Located in the bustling city of Sargodha, Pizza Club Sargodha stands as a prestigious restaurant, renowned for its extensive selection of mouthwatering fast food options, ranging from delectable pizzas to appetizing burgers and beyond. With an exceptional reputation built upon its culinary excellence, Pizza Club offers a diverse menu that caters to various tastes and cravings.
In this review, we shall delve into the menu, pricing, and overall dining experience at Pizza Club Sargodha. By providing you with insightful details, we aim to empower you to make an informed choice when seeking a convenient and delightful dinner option.
Pizza Club Menu with Prices
Pizza Club Sargodha presents an enticing array of menu options, including classics such as Pizza Margherita, Pizza Pepperoni, Pizza Vegetarian, and Pizza Chicken Fajita, among others. With a range of sizes available, from personal to jumbo, you can effortlessly select the perfect pizza to satiate your hunger cravings. In addition to their delectable pizza offerings, Pizza Club also showcases a selection of tantalizing burgers, sandwiches, and accompanying delights, ensuring there is something to please every palate.
Pizza Club Deals with Prices
Pizza Club Sargodha offers a number of deals. Following are the updated deals.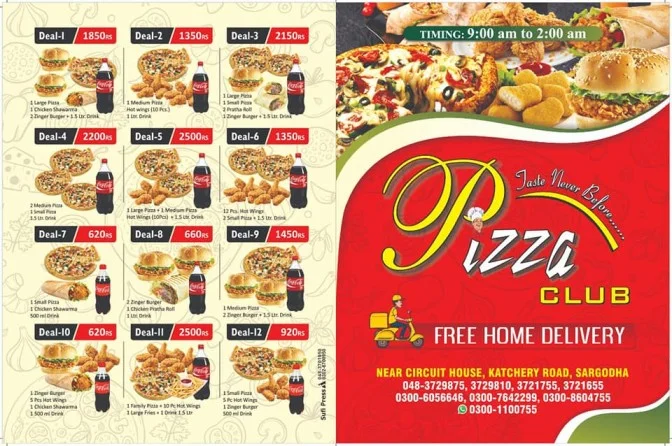 Top 10 Restaurants in Gujranwala
Pizza Club Contact Number & Address
Address: Kachery Rd, near circuit house, Awan Colony, Sargodha.
Phone: (048) 3729810
www.facebook.com/people/Pizza-club-sargodha