Quetta, the capital of Balochistan, is a city with a rich history and culture. It is also home to some of the best bakeries in Pakistan. Whether you are looking for traditional Pakistani pastries or international cakes and pastries, you will find it all in Quetta.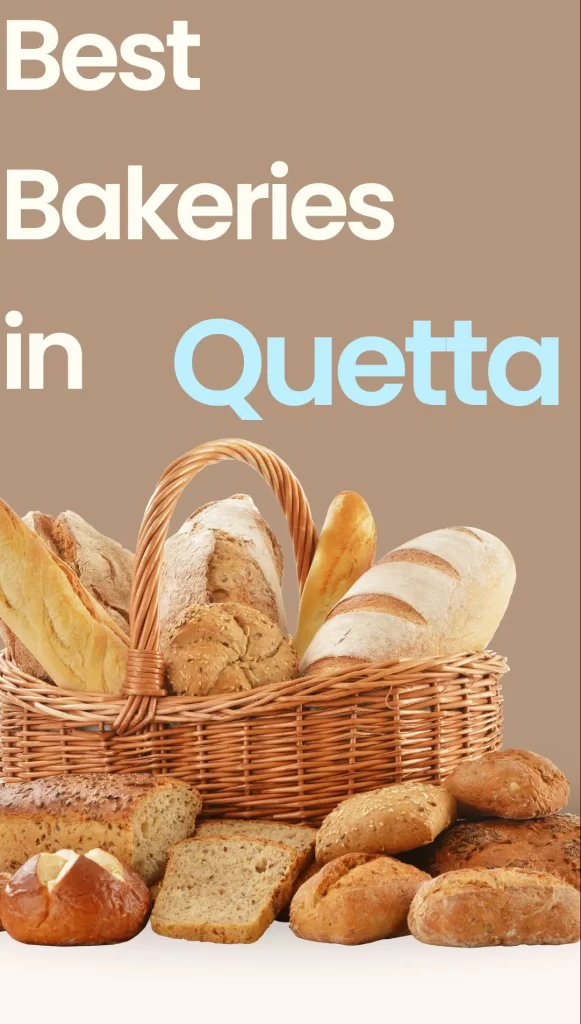 Zaika Restaurant Quetta Menu and updated Prices
In this article, we will introduce you to some of the best bakeries in Quetta. We will also share some of their most popular items, so you can make an informed decision about where to go.
List Of Best Bakeries In Quetta
Bake O'Clock
Imperial Bakery
Cakes N Cookies
New French Bakery
Palace Bakery
Zehri Sweets & Bakers
Bravo bakery
Ambala Bakery
1. Bake O'Clock
If you're in search of delectable cakes and baked goods that not only look amazing but taste equally delightful, look no further than Bake O'Clock Quetta. This bakery brings fresh, made-to-order treats that spread joy throughout Quetta and its surroundings. The confections from Bake O'Clock Quetta are crafted with care, ensuring that every bite feels like a special occasion. When it comes to both taste and appearance, you can rely on their quality.
From cakes to biscuits, each item is a masterpiece of love and creativity. Experience love at first taste by indulging in the delightful offerings from Bake O'Clock Quetta. Whether you're treating yourself or planning for an event, their range of options will surely please your palate.
Address: Main Campus, near The City School, Jinnah Town.
2. Imperial Bakery
Situated on Mission Road, a short stroll from Meezan Chowk, Imperial Bakery holds a special place in Quetta as one of its earliest and most renowned bakeries. What sets them apart is the exceptional quality of their cakes, pastries, and other baked goods. Their longstanding reputation for maintaining high standards reflects in the taste of their creations.
Cakes, biscuits, pastries, pies – Imperial Bakery offers a wide array of delectable items that cater to every taste. With both delicious and savory options available, you'll find something for everyone. Make sure to pay a visit to Imperial Bakery in Quetta and savor the goodness they've been serving for years.
Address: Mission Rd, Quetta, Balochistan.
3. Cakes N Cookies
Since 2006, Cakes n Cookies has been a prominent name in the confectionary industry in Quetta. They've won the hearts of loyal patrons by consistently delivering exquisite traditional Mithai and other sweet treats that tantalize the taste buds. Quality and flavor are at the forefront of their offerings, which range from classic Mithai to cakes and pastries.
Their dedication to quality and customer satisfaction shines through in everything they do. For those yearning for sugary delights that don't compromise on taste, Cakes n Cookies is the go-to destination.
Address: Shop 15, 1st Floor, Hali Rd, Model Town.
4. New French Bakery
When it comes to delectable and fresh baked goods, New French Bakery is a name that Quetta residents recognize. Their cakes, designed for birthdays and special occasions, are a testament to their commitment to quality. Using the finest ingredients, their cakes are not just delicious but also beautifully adorned.
Beyond cakes, New French Bakery offers an assortment of culinary delights, all prepared with the same dedication to flavor and quality. If you're in need of fresh bakery items for your upcoming event or celebration, make a stop at New French Bakery.
Address: Hazara Town, Quetta, Balochistan.
5. Palace Bakery
Palace Bakery, located in Quetta, is well-known for its delectable range of baked goods including cakes, pastries, and cookies. Their reputation is built on the use of premium ingredients and skilled bakers, ensuring that their offerings are always fresh, of high quality, and bursting with flavor. Whether you're looking to indulge or need a cake for a special event, Palace Bakery is a must-visit.
Address: Mission Rd, Quetta, Balochistan.
6. Zehri Sweets & Bakers
Zehri Sweets & Bakers is a renowned bakery in Quetta, celebrated for its freshly baked pastries, cakes, and other delights. Their products are crafted with care and attention, using high-quality ingredients and skilled craftsmanship. With a wide range of options and excellent customer service, Zehri Sweets & Bakers is a haven for those with a sweet tooth.
Address: Sirki Rd, Block 2-3, Satellite Town.
7. Bravo Bakery
Bravo Bakery is a well-known and reputable bakery in the Quetta area. Offering a wide variety of outstanding quality cakes and baked goods, this bakery stands out for its welcoming ambiance and courteous staff. Though their popular items tend to sell out quickly due to their popularity, the visit is well worth it for anyone in search of delectable treats in a tidy and inviting setting.
Address: Cantonment, Quetta, Balochistan.
8. Ambala Bakery
For more than half a century, Ambala Bakery has stood as a pillar of the community, offering unwavering support and delectable treats. Despite changing ownership over time, the bakery remains a favorite among locals seeking affordable delights, with its reputation for consistently delivering high-quality fresh cream cakes. A visit to Ambala Bakery is a must for anyone with a sweet tooth in Quetta, thanks to its unparalleled value and top-notch offerings.