Best Mexican Restaurants in Karachi
Are you craving some spicy and flavorful Mexican cuisine in Karachi? Look no further, as we've got you covered with the best Mexican restaurants in Karachi!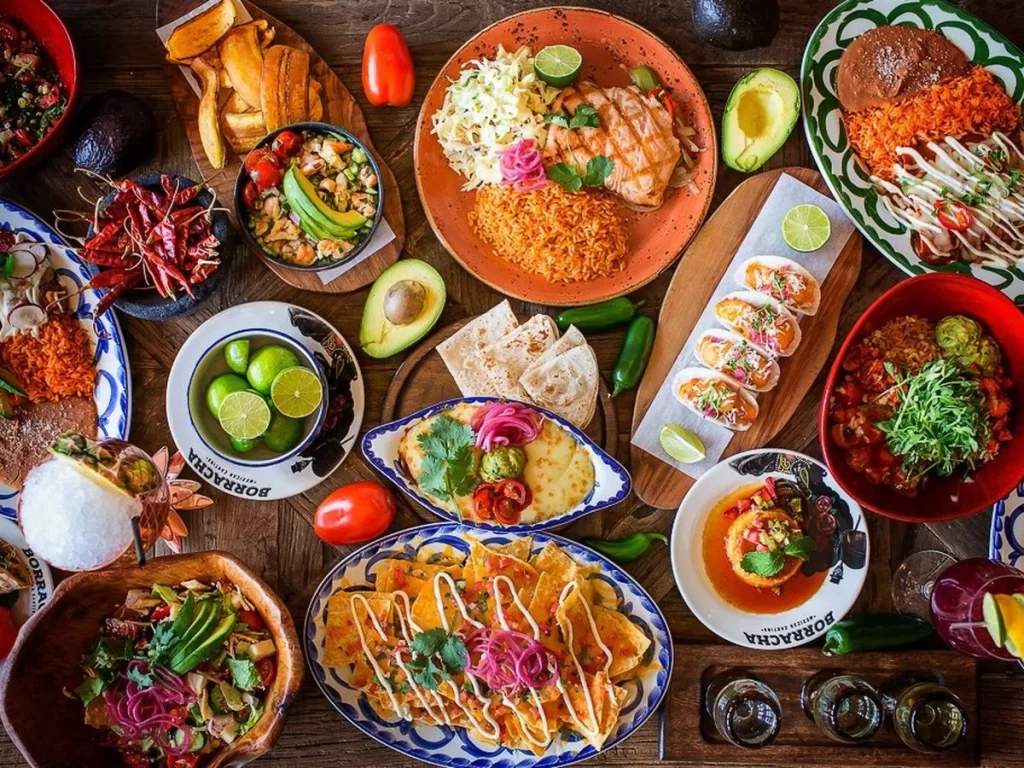 From traditional dishes like tacos and burritos to modern takes on Mexican cuisine, these restaurants are guaranteed to satisfy your taste buds. Get ready to dive into the world of bold and zesty flavors that Mexican cuisine has to offer, all while enjoying the vibrant atmosphere and hospitality of these restaurants.
List Of Best Mexican Restaurants in Karachi
Karachi, a city known for its diverse culinary landscape, offers a range of exquisite Mexican eateries that cater to the cravings of food enthusiasts. From authentic flavors to modern interpretations, these restaurants provide a gastronomic journey that celebrates the rich tapestry of Mexican cuisine. Join us as we traverse the streets of Karachi in search of the city's top Mexican culinary destinations.
Adobo Mexican Grill
Tacocat
Burridos
Loco
LocoTooso – Since 1976
Del Frio
Big Tree House
Café E Street
Tacobay
Cafe Mexico
1. Adobo Mexican Grill: A Flavorful Fiesta
Taco Tuesday at Loco Mexican Restaurant Karachi might require a touch of patience, but the experience is worth the wait. Adobo Mexican Grill stands out by offering an authentic and flavorsome Mexican dining encounter. Among the diverse selection of tacos, the beef, queso, and cheese hard shell tacos are an absolute must-try. The restaurant's commitment to delivering consistent flavor and quality has earned it a special place among aficionados of Mexican cuisine. For those seeking an unforgettable journey into the world of mouthwatering Mexican flavors, Adobo Mexican Grill is an exceptional destination.
Address: 54 Khayaban-e-Shahbaz, D.H.A Phase 6 Shahbaz Commercial Area Phase 6 Defence Housing Authority, Karachi.
2. Tacocat: Simplicity Redefined
For those in search of straightforward and delectable tacos, Tacocat is a culinary gem waiting to be explored. The menu, though concise, boasts exquisitely prepared tacos, with the carne asada (steak) tacos taking the spotlight. While the serving size may be modest, it's advisable to order two tacos per person. Tacocat's commitment to quality extends to its cheese and guacamole offerings, which come with an additional but worthwhile charge. The spot is perfect for a quick bite, with its inviting atmosphere and flavorful tortilla chips. Soft-shell taco enthusiasts will be pleased to know that the staff is accommodating in converting them to hard-shell. For those who relish simplicity and flavor in their tacos, Tacocat is an unmissable stop.
Address: C-6-C/I Nishat, Lane 3, Phase 6 Defence Housing Authority, Karachi.
3. Burridos: Wholesome and Flavorful
When it comes to wholesome and tantalizing tacos, Burridos emerges as a must-visit destination. Whether you choose to dine in, take out, or opt for delivery, Burridos promises an experience that satisfies the taste buds. Notably, their crunchy cheese and fajita sandwiches stand out among the array of offerings. With a consistent emphasis on flavor and quality, Burridos is a haven for those seeking nourishing and flavorful burritos.
Address: Shop no. 3, Plot no. 1C, Street no. 2, Bukhari Commercial Area Phase 6 Defence Housing Authority, Karachi.
4. Loco: A Fusion of Flavors
Loco presents a unique and captivating culinary fusion in Karachi. With a menu that seamlessly weaves Spanish, Latin, and Mexican influences, the experience is a feast for both the palate and the senses. Noteworthy are their tapas, an amalgamation of visual artistry and extraordinary taste. The restaurant's ambiance offers an immersive escape from the urban bustle. Loco is a resounding success in delivering an exceptional dining escapade.
Address: 14c 10th Commercial Ln, Zamzama Commercial Area Defence V Karachi.
5. Tooso – Since 1976:
For a genuine Mexican culinary journey, Tooso – Since 1976 is a destination that has stood the test of time. With over four decades of excellence, this eatery is synonymous with delectable fare and inviting ambiance. From burritos to tacos and enchiladas, every dish on the menu showcases the use of fresh, premium ingredients. Tooso is an authentic experience that captures the essence of Mexican cuisine in Karachi.
Toosso Restaurant Karachi Menu and Prices
Address: 25, Commercial Area, Alamgir Rd, near AllahWali Chorangi, Bahadur Yar Jang CHS, Karachi.
6. Del Frio:
Nestled in a cozy setting, Del Frio stands as a beacon of exceptional Mexican cuisine in Karachi. With a diverse array of dishes ranging from tacos to burritos and enchiladas, each item is carefully crafted for an explosion of flavors. The welcoming ambiance is complemented by a friendly staff, offering an experience that balances quality and affordability.
Address: Zone C – Block 7 Zone C Block 7 Clifton, Karachi.
7. Big Tree House:
Big Tree House offers a distinctive twist to Mexican dining, with its location under the shelter of a sizable tree. While the culinary offerings are delightful, the restaurant's charm lies in its vibrant and celebrity-frequented atmosphere. While the music might be energetic, the ambiance is lively and inviting. While the cuisine may not be groundbreaking, it's a space to unwind and appreciate the surroundings. The nachos, in particular, come highly recommended.
The Real Biryani Karachi Menu with Update Price
Address: Bungalow No.76 Hatim Alvi Road, Old Clifton Rd, Defence V Karachi.
8. Café E Street:
Tucked conveniently near Dolmen Mall, Café E Street is a haven for those seeking exquisite Mexican cuisine. This establishment boasts a menu that reads like a love letter to Mexican flavors. From the highly recommended Mexican Steak to the indulgent Barbeque Platter and Alfredo, the culinary journey here promises a memorable experience. The quality and flavors of the dishes speak volumes, and the cozy ambiance provides the perfect backdrop for a delightful evening with friends and family. Without a doubt, Café E Street is a gem for anyone in pursuit of exceptional Mexican fare.
Address: E St, F-44/2 Block-4, Scheme-5 Clifton, Karachi.
9. Tacobay:
Nestled within Karachi's 5 Star Food Boulevard, Tacobay brings a contemporary twist to traditional Mexican cuisine. With a unique approach to flavors and its own special sauces, Tacobay offers a tantalizing journey for the taste buds. The menu boasts delights such as the Mighty Mushroom sandwich, the flavorful Chicago Hot Dog, and the satisfying Carnitas Tacos. Despite any minor hiccups, the overall quality and portion sizes shine through. If you're seeking an innovative Mexican dining adventure in Karachi, Tacobay is a must-visit. The impeccable service and reasonable pricing are the icing on the cake.
Address: Landi Kotal Chowrangi Roundabout, Block H North Nazimabad Town, Karachi.
10. Cafe Mexico:
Café Mexico stands as a testament to the allure of Mexican flavors in Karachi. This eatery takes pride in crafting a diverse range of delectable dishes that pay homage to the essence of Mexican cuisine. From the mouthwatering chicken enchiladas to the tantalizing Mexican chips and the signature Mexican burger, every dish is a celebration of taste. Café Mexico ensures that each diner's experience is nothing short of exceptional. For those on the hunt for top-notch Mexican cuisine in Karachi, Café Mexico should be a definite stop. We wholeheartedly recommend indulging in their offerings and relishing the delectable journey they offer.
Address: Shop no. A4 Fine Center Apartment, near Madina tul Ilm Imam Bargah, Block 5 Gulshan-e-Iqbal, Karachi,