14th Street Pizza Menu and Prices 2023
14th Street Pizza is a popular pizza chain that has been serving customers in Pakistan since 2011. The company prides itself on using only the highest quality ingredients to make their pizzas, resulting in a delicious and satisfying experience for their customers. 14th Street Pizza offers a variety of pizza sizes, crusts, and toppings to choose from, catering to a wide range of tastes and preferences.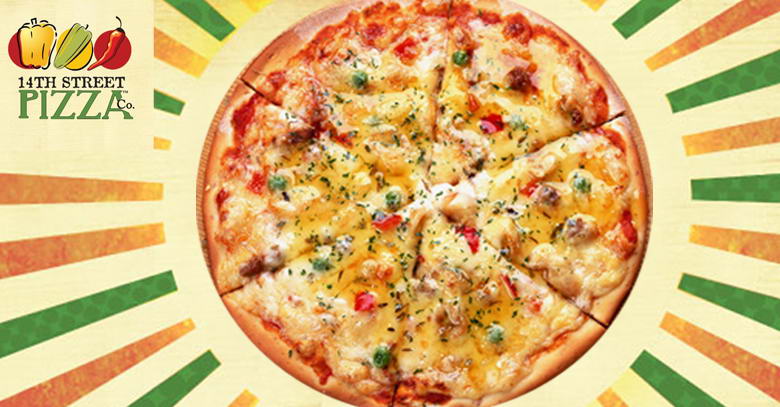 The chain is known for its signature 20-inch pizza, which is perfect for large groups or parties. In addition to its delicious pizzas, 14th Street Pizza also offers a range of sides and desserts, making it a one-stop-shop for all your pizza cravings. With their commitment to quality and customer satisfaction, 14th Street Pizza has become a beloved pizza chain in Pakistan.
14th Street Pizza Menu with Prices
Check below the latest menu for 14th Street Pizza with updated prices.
Create Your Own Pizza
| Menu | Price |
| --- | --- |
| Original Slice (serves 1) | Rs. 449 |
| Original Half (serves 3-4) | Rs. 1549 |
| Original Full (serves 6-8) | Rs. 2549 |
| Original 10 Incher (serves 2) | Rs. 949 |
| Original 15 Incher (serves 4-5) | Rs. 1599 |
| Xtreme 12 Incher (serves 3-4) | Rs. 1299 |
| Thinza 10 Incher (serves 2) | Rs. 999 |
| Original Split The Half (serves 3-4) | Rs. 1549 |
| Original Half & Half (serves 6-8) | Rs. 2549 |
| Pan 12 Incher (serves 3-4) | Rs. 1199 |
| Pan 9 Incher (serves 2) | Rs. 799 |
| Xtreme 9 Incher (serves 2-3) | Rs. 899 |
| Crispy 9 Incher (serves 2-3) | Rs. 799 |
| Crispy 10 Incher (serves 3-4) | Rs. 949 |
| Crispy 12 Incher (serves 3-4) | Rs. 1199 |
| Crispy 15 Incher (serves 4-5) | Rs. 1599 |
| Crispy 20 Incher (serves 6-8) | Rs. 2549 |
Sidelines
| Menu | Price |
| --- | --- |
| Chessy Bread (2 pcs) | Rs. 149 |
| Chessy Bread (5 pcs) | Rs. 299 |
| Chicky Bites | Rs. 349 |
| Cheesy Pockets | Rs. 299 |
| Garlic Bread (2 pcs) | Rs. 129 |
| Garlic Bread (5 pcs) | Rs. 229 |
| Potato Skins (90g) | Rs. 149 |
| Potato Skins (175g) | Rs. 299 |
| Potato Wedges (90g) | Rs. 149 |
| Potato Wedges (175g) | Rs. 299 |
| Chicken Wings | Rs. 399 |
| Social Box | Rs. 999 |
| Cheesy Breadsticks | Rs. 399 |
| Curly Fries | Rs. 299 |
| French Fries | Rs. 249 |
| Chicken Strips | Rs. 299 |
Drinks
| Menu | Price |
| --- | --- |
| Coke | From Rs. 89 |
| Diet Coke | From Rs. 89 |
| Fanta | From Rs. 89 |
| Sprite | From Rs. 89 |
| Sprite Zero | From Rs. 89 |
| Minute Maid | From Rs. 99 |
| Water | From Rs. 59 |
| Coke Zero | From Rs. 89 |
Sweet Somethings
| Menu | Price |
| --- | --- |
| Chocolate Lava Cake (full) | Rs. 299 |
| Chocolate Cake (slice) | Rs. 299 |
| Chocolate Cake (full) | Rs. 1599 |
| New York Cheese Cake (slice) | Rs. 429 |
| New York Cheese Cake(slice) | Rs. 2899 |
| Nutella Brownie (full) | Rs. 299 |
| Mini Lava Cake (6 pcs) | Rs. 599 |
| Mini Lava Cake (6 pcs) | Rs. 1099 |
| Nutella Minis (6 pcs) | Rs. 299 |
| Nutella Minis (12 pcs) | Rs. 499 |
Extra Dips
| Menu | Price |
| --- | --- |
| Garlic Butter | Rs. 49 |
| Garlic And Herb | Rs. 49 |
| Southwest | Rs. 49 |
| Sour Cream | Rs. 49 |
| Honey Mustard | Rs. 49 |
| Ranch | Rs. 49 |
14th Street Pizza Contact Information