Chicken Tikka is a popular Pakistani and Indian dish that consists of small pieces of boneless chicken marinated in a blend of spices and yogurt, and then grilled or baked to perfection. The marinade typically includes a mixture of aromatic spices such as cumin, coriander, turmeric, and garam masala, which gives the chicken a rich and flavorful taste. The dish is usually served with fresh coriander, lemon wedges, and a side of mint chutney.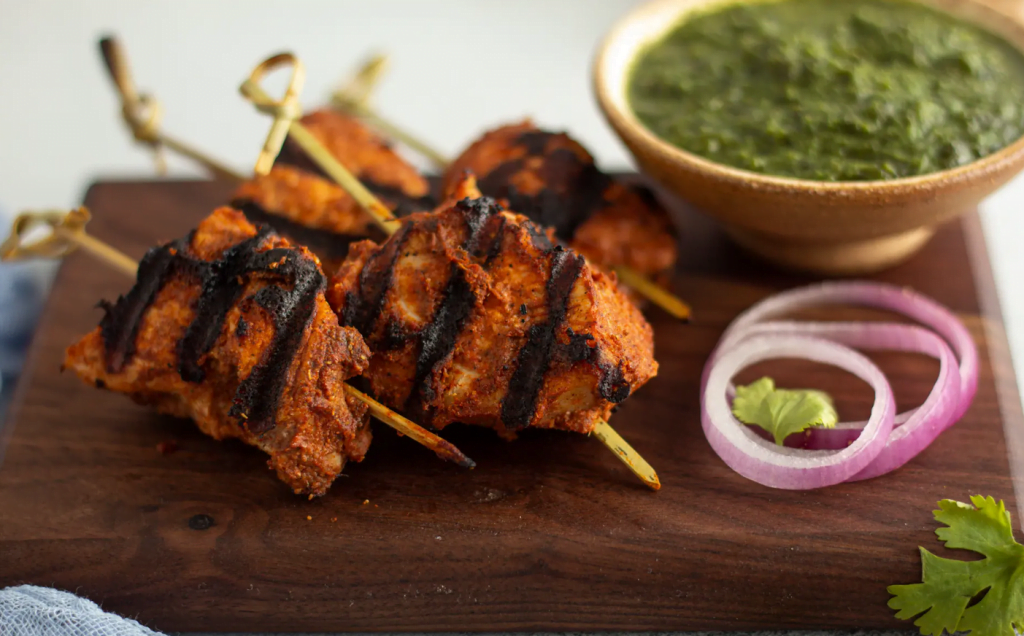 Tikka is a perfect example of the diversity and complexity of Indian cuisine, and has gained widespread popularity across the globe as a beloved and delicious dish.
1) Boneless and skinless chicken breasts
2) 2 tbsp Tomato paste
3) 2 tbsp Lemon juice
4) 2 tsp Ground coriander
5) 2 tsp Curry powder
6) 1/2 tsp Paprika
7) 2 Cups plain yoghurt
8) 4 Finely chopped garlic cloves
9) 1 Inch fresh ginger, chopped
10) 2 tsp Ground cumin
How to Make Chicken Tikka
1. Mix all ingredients except chicken together in a bowl and refrigerate it overnight.
2. Add chicken (cut in cubes) and marinate it in the above-mentioned bowl.
3. Cover and refrigerate at least 4 hours.
4. Preheat oven to 350 degrees F.
5. Bring chicken to room temperature and skewer on bamboo skewers (soaked in water for 30 minutes).
6. Place on baking tray and bake in oven for 20 to 35 minutes.
7. 3 tbsp of butter can be drizzled over for the last 5 minutes of cooking.